Testingfg of Ads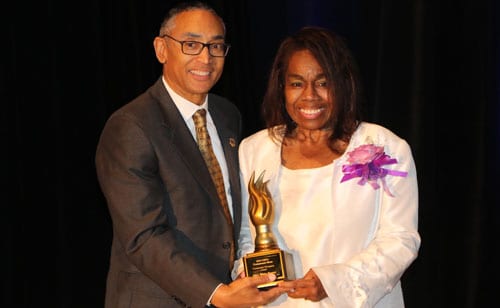 DeKalb County CEO Burrell Ellis honored 25 individuals and organizations during his fifth CEO's Community Hero Awards on Dec. 27 at the DeKalb History Center.
"Thank you for the time you take away from your other responsibilities in life to volunteer with organizations in DeKalb County," CEO Ellis said. "Thank you for your work to improve the quality of life for our citizens. And most importantly, thank you for the gift of service that you have unselfishly given to our county."
Hosted in partnership with The Champion Newspaper, the CEO's Community Hero Awards recognized outstanding individuals and organizations making a significant impact in DeKalb County.
"You are truly heroes," CEO Ellis told the recipients.
The awards and their recipients include:
Community Champion Award: This award acknowledges individuals and nonprofit organizations that have had a positive impact in strengthening communities and improving the lives of others in DeKalb County.
Individuals
Alice White–Bussey, County Line/Ellenwood Community
John Evans, Operation Lead
Marcia Glenn Hunter, DeKalb for Seniors Inc.
Ronnie Mayer, Ashford Park Civic Association
Gilbert "Gil" Turman, South DeKalb Neighborhood Coalition
Verdaillia Turner, Georgia Federation of Teachers
Honey Van De Kreke, Tucker City Council District-1, Post-1
Organizations
Be Someone Inc., Orrin Hudson
Wesley Chapel Curb Appeal Task Force, Kevin Chapman, Jr.
Asian American Resource Center, Connie Jee 
Environmental Change Award: This award honors community members who work to preserve, protect and raise awareness about the environment.
Linda Cotten Taylor, Friends of Chapel Hill Park
John Miller II, CIP Citizen Advisory Committee
Tom Smith, Davidson-Arabia Mountain Nature Preserve
Youth Volunteer Award: This award recognizes DeKalb County youth who exemplify volunteerism and community service.
Justin LeGrand, Boy Scout Troop 106, sponsored by Greenforest Community Baptist Church
Marcus Jerome Johnson Jr., Boy Scout Troop 1996 at Fairfield Baptist Church
Gillum Owen, DeKalb County Youth Commission
Neighborhood Empowerment Award: This award recognizes individuals and organizations that fosters civic engagement and promotes community involvement.
Individuals
Jan R. Costello, Greater Hidden Hills Community Development Corporation
Joel Edwards, Restore DeKalb
Vivian Moore, NAACP Georgia Political Action Committee
Charles Peagler, community activist
Opal Ware, community activist
Organization
Columbia Alliance Sustainable Neighborhoods Initiative, Eunice Wight
The Vanguard Award: This award recognizes individuals whose contributions most exemplify the National County Government Month theme as established by National Association of Counties each year. This year's theme is "Safe and Secure Counties."
Jacqueline Davis, DeKalb County Board of Health
Jacqueline M. Echols, South River Watershed Alliance
Charles Maxwell, Lindmoor Woods Neighborhood Watch, Lindmoor Woods Civic Association