Testingfg of Ads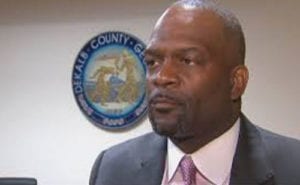 A former DeKalb County Board of Commissioners chief of staff and a man who did business with the county are facing theft and conspiracy charges.
Morris Williams and Douglas Wayne Cotter were indicted on two counts of theft by taking and one count each of conspiracy to defraud a political subdivision. Cotter also was indicted for making a false statement.
Williams was booked into the DeKalb County Jail on July 19 but was released after posting bond. Cotter was booked on July 20 and released on bond as well.
DeKalb District Attorney Robert James said county employees and others who betray the public's trust must be held accountable.
"County employees and those who do business with the county are held to a higher standard because they provide or use resources to further the best interests of DeKalb citizens and businesses," said James. "If you betray the public trust, you must be held accountable."
As chief of staff in June 2011, Williams instructed Cotter to submit an invoice to DeKalb County for work done by Water Removal Services on then-Commissioner Lee May's behalf. The price tag Cotter submitted for the work was inflated by $4,000.
Several days after the invoice was submitted, the company was paid approximately $6,400 by DeKalb County, the indictment said. At Cotter's insistence, the company subsequently cut a $4,000 check made out to May.
Someone other than May, however, endorsed the check. Cotter said he cashed the check at his family's business in Dawson County after Williams asked him to do so. Cotter said he gave the money to Williams to give to May. But May has said he didn't have anything to do with the check and never received any of the money.
May is not facing any charges. He said he is cooperating with authorities.
"I am aware that a former county employee and contractor have been implicated in wrongdoing. I support the judicial process and will cooperate to the fullest extent possible," May said. "The judicial process must run its course, but I am looking forward to a successful resolution to this matter."
The indictment comes after Chanel 2 Action News and the Atlanta Journal Constitution began investigating the county's payment for emergency services that were provided when raw sewage backed up into May's home after a flood in December 2009.
Attorney Otis Williams, who is representing Morris Williams and is not related to him, told Channel 2 the allegations in the indictment are untrue.
"Mr. Williams will plead not guilty," said Otis Williams.
Cotter told Channel 2 that he also plans to plead not guilty.