Testingfg of Ads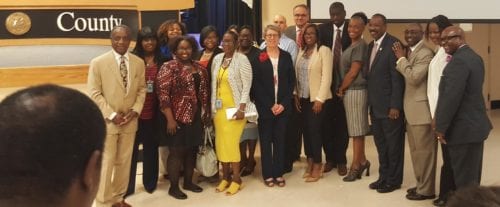 Kathie Gannon, DeKalb County's Board of Commissioners' presiding officer, honored some of her favorite efforts on Tuesday, April 25, during the board's meeting. The former social worker and founder of Georgia's Court Appointed Special Advocates(CASA) recognized DeKalb County CASA, DeKalb Child Advocacy Center and the Department of Family and Children Services to raise awareness about Child Abuse Prevention Month.
The BOC recognized the efforts these partnerships make to support and advocate the best interests of abused and neglected children as they navigate the Juvenile Court and foster care systems.
Older Americans Month kicks off in May and the Maloof  Auditorium, where the BOC meets, was filled with DeKalb County seniors who were there for the kickoff of Older Americans Month, observed in May. Several senior centers were represented including Bruce Street, Central DeKalb, Lou Walker, South and North DeKalb.
The BOC also gave special recognition to DeKalb County's Office of Senior Affairs, DeKalb County Public Library, DeKalb Recreation, Parks and Cultural Affairs, Senior Coalition of DeKalb and Senior Connections, commending their commitment to improving the quality of life for older Americans and their partnerships to provide several programs to seniors.
"What a great day it is in DeKalb when we can celebrate the collaborations we have in place to best serve our most vulnerable constituents, " said Commissioner Gannon.
For more information about the "Age Out Loud" activities scheduled in May, visit www.dekalbcountyga.gov/oam2017.