Testingfg of Ads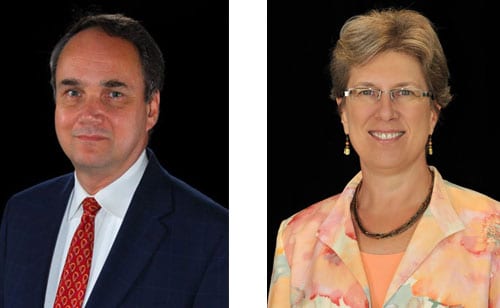 DeKalb County Commissioners Kathie Gannon and Jeff Rader will serve as presiding officer and deputy presiding officer respectively. The Jan. 10 elections at the Board of Commissioners' meeting ended a longstanding battle over the leadership positions, which were criticized by Gannon who had called for the positions to be shared by blacks and whites on the board.
The seven-member Board of Commissioners elected Gannon 5-2. She received support from Commissioners Steve Bradshaw, Mereda Davis Johnson, Nancy Jester and Jeff Rader. Commissioners Gregory Adams and Larry Johnson cast the dissenting votes. Adams had nominated Johnson to continue as presiding officer saying he believed he had done a good job. Johnson had served in the role since 2014.
Gannon thanked the board for taking a new direction.
"I'm honored to have been chosen by my peers, and I thank Commissioner Larry Johnson for his dedicated service" Gannon said. "My goal is to improve how the Board of Commissioners work. In our form of government the CEO is responsible for the day to day operations of the departments. The Board of Commissioners establishes policies."
Gannon said she plans to hold a board retreat to discuss which policies it will address first.
"There are plenty of issues we must consider: police retention, dilapidated housing, economic development, funding for roads and transportation, and more. I want our Board to reach a consensus on what we tackle first. Then I want to use our committees to focus on them, hear from experts and find solutions," said Gannon.