Testingfg of Ads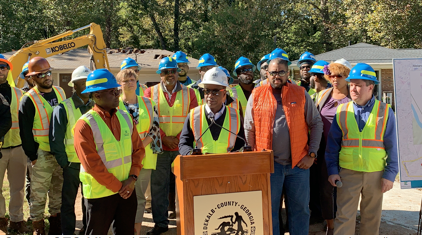 DeKalb County CEO Michael Thurmond announces sewer repairs at "Ground Zero."
DeKalb County has begun Phase 2 work on its worst sewer spill site. Officials held a press conference on Oct. 23 to announce that another round of repairs are underway  near Melanie Court, where 22 sewer spills have been reported since 2014. Construction crews demolished a house near the site as they began work at what DeKalb CEO Michael Thurmond called "Ground Zero."
"This is Ground Zero for the challenges my administration has faced with the long-delayed repairs and maintenance to DeKalb's sanitary sewer system," said Thurmond.
"Repairing the sewer system is critical to ensure our quality of life and continued economic prosperity. The county has prioritized consent decree repairs and made significant investments to pinpoint the problems, prevent sewer spills and upgrade the aging infrastructure."
The $10.9 million Melanie Court Sanitary Sewer Improvement Project is taking place in three phases. The first phase, completed in February 2019, included replacing damaged pipelining to reduce stormwater from upstream and fixing pipe to allow for uninterrupted flows. The next stages of the project will include rerouting a sewer line near the creek to correct a design defect in the original construction, which includes eliminating a 90-degree turn. The county also will fix structural defects, cracks and breaks in pipes.
The Melanie Court site has experienced nearly twice as many spills recorded at Hood Circle, another problematic repeat spill site. On  Oct. 21, DeKalb began a $3.2 million sewer improvement project to repair or replace approximately 2,400 linear feet of pipes at Hood Circle.
Repeat spills at Melanie Court are the result of stormwater intrusion, which occurs when rainwater enters the sanitary sewer system from a variety of sources, such as flooded manholes and other sewer system infrastructure, broken or damaged sewer lines and root intrusion.
The Melanie Court Sanitary Sewer Improvement project is part of DeKalb County's $1.2 billion initiative to rebuild the county's aging infrastructure. All repairs at Melanie Court are expected to be completed by December 2020.