Testingfg of Ads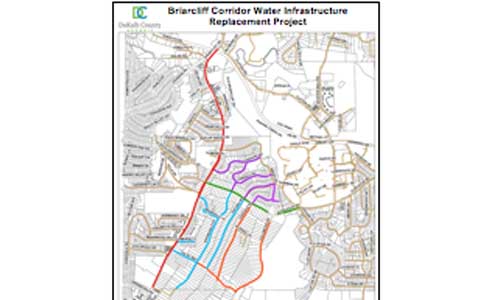 On Sunday, Sept. 22, repair work will begin for the Briarcliff Corridor Water Infrastructure Replacement Project. The project includes replacing 44,500 feet of water main in the Briarcliff Road/North Decatur Road area.
Authorized contractors will install 12-inch or 8-inch ductile iron pipe within the road right of way with a single lane closure in place as work progresses. Work is expected to last approximately 24 months, unless unforeseen circumstances arise. Normal construction hours will be from 9 a.m. to 3 p.m., Monday – Friday. Construction in Emory Village area will be from 9 p.m. to 5 a.m., Sunday – Thursday.
Officials said residents should review their existing plumbing infrastructure to ensure plumbing meets current code standards.
For more information, visit the project page at www.dekalbcountyga.gov/briarcliffproject, call 1-800-986-1108 or email projectinfo@dekalbcountyga.gov.