Testingfg of Ads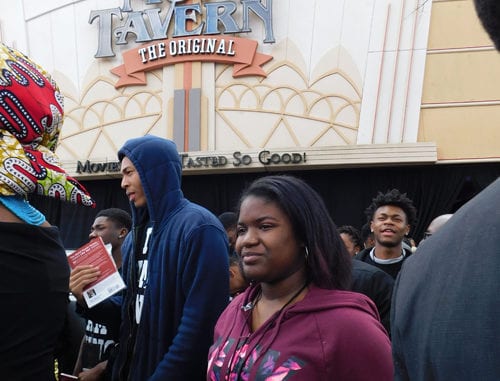 On Feb. 20, the Phoenix Leadership Foundation and the DeKalb Entertainment Commission brought Wakanda to Atlanta with a special screening of the new Black Panther movie for local high school students.
700 students from six Dekalb County schools and six Atlanta Public Schools viewed the critically acclaimed Marvel Blockbuster film at the Movie Tavern at Northlake Festival.
The Phoenix Leadership Foundation is headed by James "Jay" and Blayne Alexander Bailey and is dedicated to funding and creating programs that create positive role models. The Dekalb Entertainment Commission is charged with stimulating economic growth across the county in film, television, music and digital entertainment, attracting and expanding businesses supporting the entertainment industry.
African drummers and dancers greeted the students upon their arrival and students took part in panel discussions with local business leaders after the film.
The organizations worked together to raise over $30,000 to provide on-site entertainment, movie admission, a hot lunch, unlimited popcorn, movie favors and gifts for the students.
"Images matter. It means something for a kid to see their reflection as regal, wealthy, intelligent, strong and powerful," said James "Jay" Bailey, founder of the Phoenix Leadership Foundation. "This is more than a movie. To see diversity on the big screen excelling as leaders in science, medicine, finance and technology – kings and queens – all woven into an exciting action-packed superhero Marvel Comic blockbuster – this is a MUST SEE!"
"The mission of the DeKalb Entertainment Commission is to allow our community to benefit from the growth of the film industry here, which includes supporting events like this for our young people," said Shelbia Jackson, director of the DeKalb Entertainment Commission.