Testingfg of Ads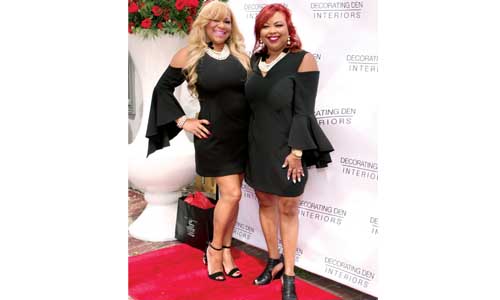 By Mackenzie N. Morgan
Nearly 200 people joined sisters Barbara Elliott and Jennifer Ward-Woods of Decorating Den Interiors—"The Sisters and Company" for their 20-year anniversary celebration on Sept. 24 at their headquarters, 917 Main St., Stone Mountain.
The pair said the red carpet affair was a way to say thank you to current and former clients for their support over the years, as well as an opportunity to show off their updated main studio area. Guests enjoyed hors d'oeuvres, entertainment and were each sent home with a black swag bag.
"It was so good to see so many of our friends and customers," said Elliott, who co-owns the Stone Mountain franchise with her sister Jennifer Ward-Woods.
Ward-Woods said she was excited to hear how appreciative customers were with the work that they had done.
"It was truly a pleasure seeing people whose homes we decorated years ago, as well as customers we've worked with on multiple projects," Ward-Woods.
In 1997, Elliott launched the business with another partner who decided to go a different path. That's when she sought the help of her sister who relocated from North Carolina so that they could grow the business together.
Together, the sisters created an award-winning franchise in DeKalb County, winning numerous awards in design and business. The sisters were recently chosen as finalists for Black Enterprise magazine's Franchisee of the Year Award and were named Decorators of the Year twice by parent company, Decorating Den Interiors, North America's largest interior design and home furnishings franchise company.
Decorating Den Interiors—"The Sisters and Company" offers a suite of products and services including custom window treatments, furniture, lighting, floor coverings and a treasure trove of accessories from around the world.
Ward-Woods said that while the bulk of their customers are busy homeowners, others include dentists, attorneys, hotels and even churches.
Elliott said they have managed to grow the business, despite the downturn of the economy several years ago by staying affordable and using social media to generate business.
The sisters said they don't plan on slowing down anytime soon. In addition to growing their business locally, they have had to evolve in many ways to accommodate their expanding empire. They recently became Decorating Den master licensees, which allows them to manage and sell franchises within a particular region. In addition to their Stone Mountain studio, they currently have two franchisees—one in Rockdale County and the other in Atlanta.
"There's only so much we can do as two people and we are excited about adding more decorators to our business and continued future growth," said Elliott.