Testingfg of Ads
As the New Year begins, Commissioner Spencer R. Moore, Department of Driver Services (DDS), recommends checking the expiration date of your Georgia driver's license or ID Card.
"Please check the expiration date of your license or ID, and plan ahead if you are expiring in 2018. Not waiting until the last minute and knowing what to bring ensures a smooth experience if you must visit in person," said Commissioner Moore.  "Best wishes for a safe, happy and healthy New Year."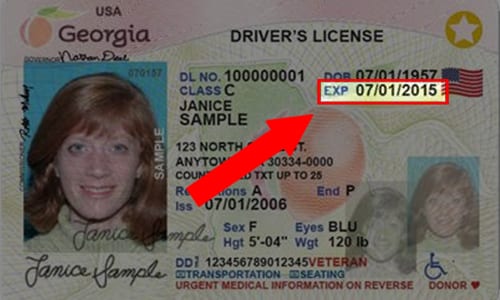 Tips
Check the expiration date on the right-hand side of your driver's license or ID card.  Customers who have a small gold star in the top right-hand corner of their current driver's license or ID have already provided the required documents, and do not have to provide any documentation for renewal. Check to see if you can renew online without visiting in person and receive a $5.00 discount at  https://online.dds.ga.gov/onlineservices/licenserenewalintro.aspx.
Those who do not have a gold star above the expiration date will need to bring original documentation to meet Federal Homeland Security requirements and receive the star:

An original/certified document to prove WHO YOU ARE such as a Birth Certificate or Passport
One document showing your full SOCIAL SECURITY number
Two documents showing your RESIDENTIAL ADDRESS such as a Bank Statement or Utility Bill
If you've had a NAME CHANGE, then you'll also need to bring a document to prove that such as a
Marriage License.
Non-Citizens and anyone missing any of these documents will need to use our Checklist which will provide the full list of all documents that we accept.  Go to dds.georgia.gov and click on  Secure Driver's License & ID to create your personal checklist or print the entire list.
Pre-Apply Online https://online.dds.ga.gov/onlineservices/preapply/ is a convenient way to make your visit to our office go smoother.  Fill out the DDS Application anywhere, anytime and from any device including smartphones.   The submitted information populates directly to the mainframe, reducing data entry time and any potential typing errors at the time of service.
A license or ID Card may be renewed up to 150 days before the expiration date.
Skip A Trip! Always check for alternatives to visiting in person by reviewing DDS Online Services at https://online.dds.ga.gov/onlineservices/. Certain transactions must be handled in person, but many are available online such as changing your address, replacing a lost license and obtaining a copy of your driving history.  Customers who already have the gold star on their license or ID may be eligible to renew their license online, so please check.