Testingfg of Ads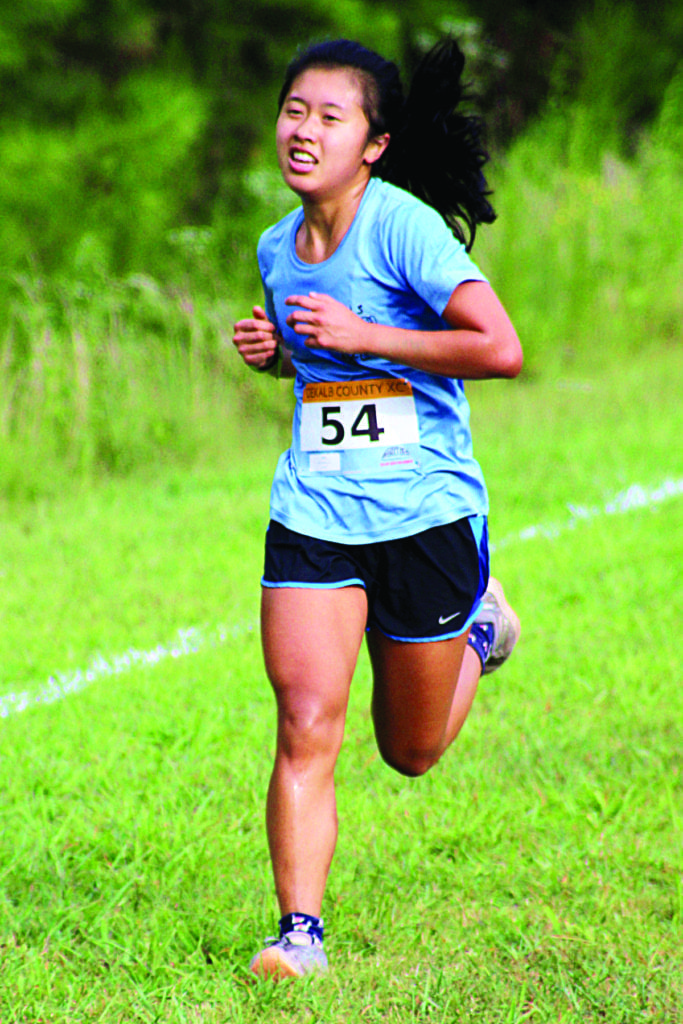 Eighteen DeKalb County cross country teams (10 boys, 8 girls) and one individual qualified for their respective state meets coming out of recent region competitions.
Three-time defending state champion, Clarkston and Chamblee, won the Region 5-5A boys' and girls' titles, respectively, at the Druid Hills Middle School course on Oct. 21.
The Angoras placed five runners in the Top 10, led individual medalist Rukundo Uwimana (17:17.50) and runner-up Mathurin Allawai (17:25.70) to top Chamblee 23-34 for the region title.
Chamblee placed four runners in the Top 10, led by third-place finisher James Burgett (17:33.00) and fourth place runner Bennett Solomon (17:40.50).
Southwest DeKalb finished third (84) led by Nakai Jack (18:12.70) in ninth and Arabia Mountain was fourth (110) led by Sam Garrett (21:16.00) in 17th to qualify for the Class 5A team championships next Friday (Nov. 3) at 9:00 am at Carrollton.
Chamblee won the girls' title 17-44 over Clarkston placing all seven runners in the Top 10. The Lady Bulldogs Beining Xiao (20:36.80) won individual honors with teammates Paris Williams (23:17.30) in second and Madeline Miller (23:29.00) in third.
Clarkston was led by Zyikeirra Robinson (23:43.60), who finished fourth overall to lead a group of three Lady Angoras in the Top 10. Both teams move on to the Class 5A Girls' State Meet on Friday, Nov. 3, in Carrollton at 9:45 am.
REGION 4-6A
Druid Hills Middle also will host the Region 4-6A Championships on Oct. 21 with the Tucker Tigers and Stephenson Lady Jaguars, capturing the titles with three other teams qualifying for the Class 6A State Meet on Saturday, Nov. 4, in Carrollton.
Five Tucker Tigers placed in the Top 10 to get past Martin Luther King Jr,. 26-52, while Stephenson (87) qualified for state with a third-place finish.
Tucker was led by a 1-2 finish by Abdilnur Tiroro (17:42.10) and Bereket Adugna (18:22.80). The Lions were led by a third fourth finish by Demetrius Carson (18:47.30) and Deonne Wragg (18:59.30). Donald Griffin (20:16.40) led Stephenson with his 14th place finish.
The boys' run will be at noon on Saturday, Nov. 4, at Carrollton, with the girls following at 1:15 p.m.
Stephenson outran Mt. Zion-Jonesboro 34-37 to take the girls' title, while Tucker (103) finished fourth to qualify for state and Martin Luther King (110) was fifth just short of state qualifying.
Deanna Rawlings finished fourth in the individual standings with a time of 24:39.50 to lead a group of four Lady Jaguars in the Top 10. Tucker's Gabrielle Williams (25:30.00) led the Lady Tigers to the state qualifying finish of fourth wither her eight overall finish.
Region 7-6A
The Dunwoody Lady Wildcats qualified for the state meet with a fourth-place finish in the team standings with 94 points behind region champ Cambridge's 31 in Alpharetta on Oct. 17.
DeKalb County girls' individual champion Samantha Cameron (19:22.77) finished third and teammate Anna Mothener (19:53.73) was seventh.
The Wildcats came up short of qualifying for state with a sixth place finish of 142 points behind Pope's first place 44. Max Mowrer did qualify for state as an individual running a 16:35.91 to take sixth overall.
Region 4-4A
Druid Hills swept the Region 4-4A titles in tight races with Woodward Academy held at Nash Farms Battlefield in Hampton Oct. 18.
The Red Devils edged out Woodward Academy 28-31 for the Region 4-4A boys' title as Carter Rathur led the way with his first place finish in 17:21.96. Ian Shunk (18:02.99) and Senai Ghezai (18:04.26) finished third and fourth, respectively, while Ermias Genet (18:25.63) was sixth.
Druid Hills had a closer race in the girls' contest with the Lady Red Devils pulling out a very close 27-28 victory over Woodward to garner the title.
The trio of Lisa Medford (22:18.41), Reese Rathur (22:18.42) and Genevieve Ferrara (22:20.68) went three-four-five in leading a group of five Druid Hills' runners in the first eight to cross the finish line.
The boys' run at Carrollton on Saturday, Nov. 4, 11:00 a.m., with the girls' following at 11:45 a.m.
Region 5-3A
The Stone Mountain Pirates and Cedar Grove Lady Saints qualified for the Class 3A State by finishing fourth in the Region 5-3A Championships held on Oct. 18 at Westminster.
Stone Mountain finished in fourth with 119 points while Cedar Grove totaled 115 to finish fourth in the girls' contest.
Mohamed Dirie was the lead for Stone Mountain with a time of 18:41.61 which was good for 19th overall. Zenera Foster led Cedar Grove with her 21st place finish in 27:02.36.
Stone Mountain runs at 9:30 a.m. on Saturday, Nov. 4, at Carrollton with the girls following at 10:15 a.m.
DCSD XC State Qualifiers
Friday, Nov. 3
9:00 – 5A Boys – Clarkston (1), Chamblee (2), SW DeKalb (3), Arabia Mountain (4)
9:45 – 5A Girls – Chamblee (1), Clarkston (2)
12:00 – 7A Boys – Lakeside (1)
12:45 – 7A Girls – Lakeside (4)
Saturday, Nov. 4
9:30 – 3A Boys – Region 5-3A – Stone Mountain (4)
10:15 – 3A Girls — Region 5-3A – Cedar Grove (4)
11:00 – 4A Boys – Region 4-4A – Druid Hills (1)
11:45 – 4A Girls – Region 4-4A – Druid Hills (1)
12:30 – 6A Boys – Tucker (1), M.L. King (2), Stephenson (3); Individual Max Mowrer (Dunwoody)
1:15 – 6A Girls – Stephenson (1), Tucker (4), Dunwoody (4)
(1)—Region Finish