Testingfg of Ads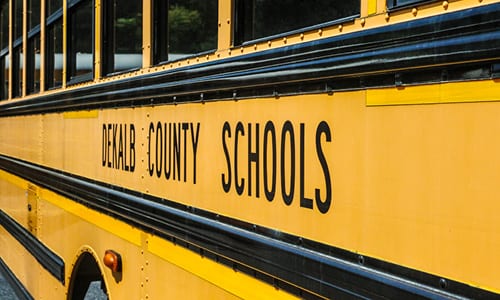 s 
The DeKalb County School District (DCSD) continues to address the concerns of its bus drivers through an open, collaborative dialogue, officials say.
Superintendent R. Stephen Green met recently with drivers in the latest step in this ongoing process. In a statement following that meeting, Green noted actions taken recently include offering benefits to the drivers. To date, DCSD has addressed 22 concerns of the drivers, while another 23 are currently being addressed, and 13 more are being researched.
"DCSD continues to work with its bus drivers on solutions that address their concerns. Substantial progress has been made through a series of meetings that have led to improvements such as a new merit pay recognition program and increased salaries in the FY 2019 budget. The district remains committed to working with drivers who demonstrate a spirit of cooperation and collaboration," the district said in statement. 
Some  of those steps include:
• A 2.5% salary increase for all employees, including bus drivers and monitors
• The establishment of a new step structure for both classified and certified staff, effective January 2019
• Increase in extra activity budget to support Special Needs programming, athletic events, field trips, etc.
• Restoration of the District's Meritorious Attendance Program (annual $150.00 incentive and Spring Banquet )
• Allocation of numerous new positions including 35 school bus monitors; four Routing Technicians; two Dispatch Clerks; two Transportation Customer Service Representatives; one  Safety/Field Trainer; one Bus Mechanic; two Body Repair Technicians; and one Electronics and Technology Repair Technician