Testingfg of Ads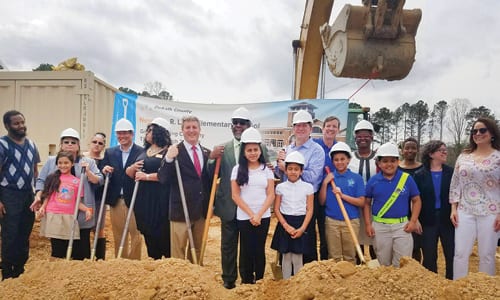 The DeKalb County School District celebrated the groundbreaking of another innovative, future-minded DeKalb elementary school on March 29.
DCSD teachers, students, administrators and officials gathered at the site of the future John R. Lewis Elementary School named in honor of U.S. Congressman, who represents Georgia's 5th District. The legendary Lewis, one of the original 13 Freedom Riders, received the Presidential Medal of Freedom, the highest civilian honor, from President Barack Obama. He was arrested over 40 times for his involvement in civil rights marches and protests
The celebratory groundbreaking for DeKalb's new school was held at 2630 Skyland Drive NE in Brookhaven.
The event featured student performances, remarks from DCSD Superintendent Stephen Green, DeKalb County Board of Education representatives, school officials and others.
The future John R. Lewis Elementary will be one of DCSD's premiere facilities, featuring a student courtyard, collaborative learning spaces, flexible fixtures, and improved security measures. The 900-seat school will mirror DCSD's Barack H. Obama Elementary Magnet School of Technology and Rockbridge Elementary's modern design.