Testingfg of Ads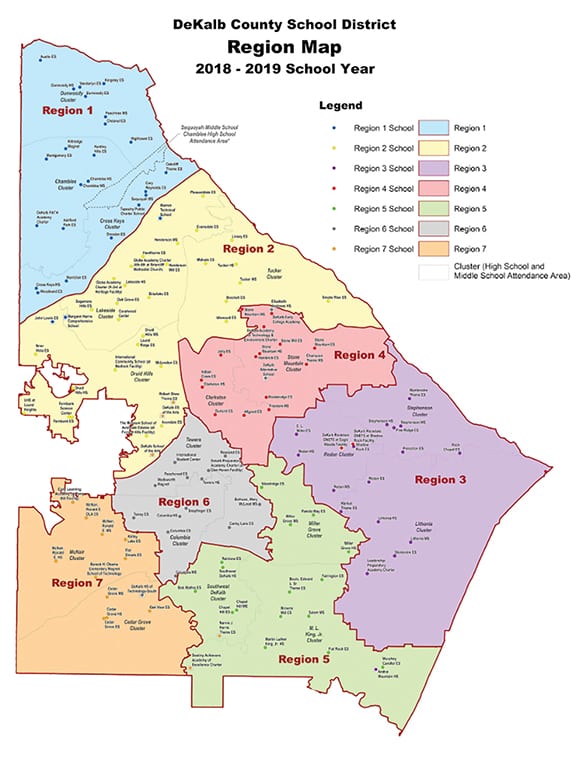 The DeKalb County School District (DCSD) is reorganizing the leadership of its schools increasing the number of academic regional superintendents from five to seven in order to provide more support to underperforming schools.   
Sean Tartt, who served for 12 years as principal of Narvie J. Harris Elementary School, and Bernetta Jones, principal of Clarkston High School, have been appointed as the two new superintendents. DeKalb's five regions were reorganized into smaller regions and Superintendent R. Stephen Green has appointed the following leaders to the new regions:
Sherry Johnson, Region 1 Superintendent; 
Trenton Arnold, Region 2 Superintendent; 
Sean Tartt, Region 3 Superintendent; 
Michelle Jones, Region 4 Superintendent; 
Triscilla Weaver, Region 5 Superintendent; 
Pamela Benford, Region 6 Superintendent;
Bernetta Jones, Region 7 Superintendent
The new organizational effort will provide the district the opportunity to:
• Increase the number of schools demonstrating improved academic achievement and growth as defined by CCRPI
• Expedite completion of school-based work orders and identification of schools for deferred maintenance status
• Reduce the number of high needs schools
• Increase district and division support of students, teachers, and schools
"Each and every day, DeKalb County School District is finding innovative ways to move onward and upward," said Green. "This organizational initiative will allow us to better serve and support our students. We are poised to improve test scores, school campuses, and the overall educational experience in DeKalb County."
Two Board of Education members who represent schools in South DeKalb, say the additional support is all about helping students succeed.
  "We want to do everything that we can to see that all of DeKalb students succeed and we're providing additional resources and attention to those areas that need more," said Dr. Melvin Johnson, who represents District 6.
School Board member Vicki Turner, who represents District 4, agreed.
"The goal is to get the underperforming schools where they need to be. The regional superintendents will have fewer schools they are responsible for, which will give them more time to devote to underperforming schools."
Interim principals will be named to Narvie J. Harris Elementary and Clarkston High schools until school officials and parents work together to find new principals for those schools, Johnson said.   
For more information, visit www.dekalbschoolsga.org.