Testingfg of Ads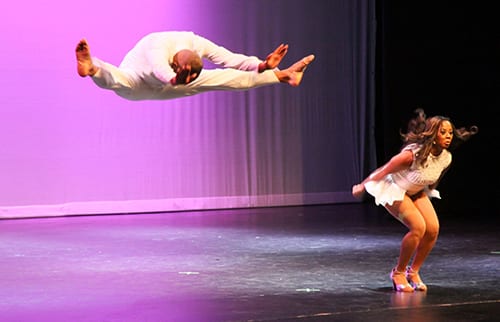 DeKalb County Solicitor-General Donna Coleman-Stribling raised over $21,500 through her annual "Dancing with the DeKalb Stars" a domestic violence resource expo and fundraiser, for local non-profits, Women's Resource Center to End Domestic Violence and International Women's House. The event, which was held at Porter Sanford III Performing Arts & Community Center on Oct. 20 exceeded fundraising goals through ticket sales, sponsorships and a partnership with the DeKalb Elementary School of the Arts.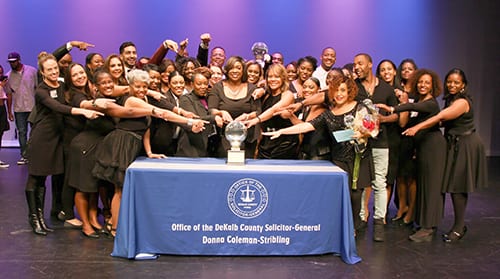 "Our goal for this event was to create a fun and safe environment for our community to learn more about the cycle of abuse. We also wanted Dancing with the DeKalb Stars to truly become a community owned event," said Coleman-Stribling. "With students from the DeKalb Elementary School of the Arts selecting our event to donate to and to see such enthusiasm from members of our community, I believe we accomplished our goals. My team and I are proud to deliver a memorable night and we appreciate the continued support we receive from DeKalb County." 
The event featured a Resource Expo that included 15 non-profits, who assist victims and survivors of domestic violence, and a dance competition comprised of 9 teams of notable DeKalb County community members. Winners of the ABC-inspired dance competition were David Manuel, division manager of DeKalb County's recreation, parks & cultural affairs, partnered with Shalay Johnson, owner of Infinite Dance Theatre. First runner-up was Judge Fatima El-Amin, with DeKalb County Juvenile Court, and her partner, Calan Bryant. Second runner-up was Chief Deputy Reginald Scandrett, with the DeKalb County Sheriff's Office, and his partner, Jazmin Freeman.
 This year's Dancing with the DeKalb Stars featured the People's Choice award. This trophy was awarded to the team who raised the most through their individual Click & Pledge sites. Dr. Connie Stevenson, director of School choice for the DeKalb County school district, partnered with Shervoski Moreland, of Reynold's Artistic Creations and Performing Arts Center, raised over $1,100.
Hosts for the evening were the dynamic mother-son duo, Monica and Rafael Maldonado. Monica is the president and CEO of Interprint Communications, while Rafael is the creative director of It Media Collective. Judges of the dance competition were Emmy nominated producer, director and choreographer, Stepp Stewart; Principal and Artistic Director of DeKalb Elementary School of the Arts, Bianca Hamilton; Artistic Director for the Academy of the Arts, Susan McGhee Crawford; and Dancing with the DeKalb Stars 2017 champion and owner and attorney at Shah Law Firm, Parag Shah. Mable's Barbecue and Smoked Meats catered the resource expo and fundraiser. The Champion Newspaper was the event's official media sponsor. Congressman Hank Johnson, closed the evening with a special performance with 2017 Dancing with the DeKalb Stars Champion CiCi Kelley of DARE DREAM DANCE.
For more information on the Office of the DeKalb County Solicitor-General, please visit our site at www.DeKalbSolicitorGeneral.org