Testingfg of Ads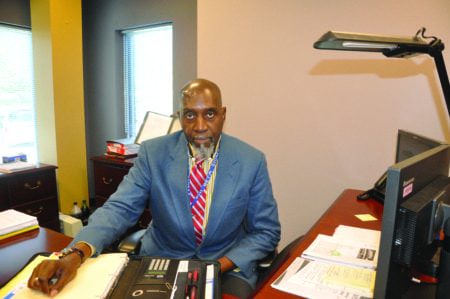 Dr. Dale Burgess, a veteran administrator, has been tapped to serve as Georgia Piedmont Technical College's Dean of Arts & Sciences.  His appointment began June 12.
"I am delighted to welcome Dr. Burgess as Georgia Piedmont's newest dean," said GPTC President Jabari Simama. "Dr. Burgess possesses an impressive track record of proven leadership at several institutions of higher learning.  He has hands-on experience working in our college with students, faculty and staff, and he is bringing considerable expertise to this pivotal role," he concluded.
Prior to becoming dean, Burgess worked as an evening and weekend administrator at GPTC.  He also served for more than two years, as an adjunct faculty member.  As dean, Burgess will ensure the president's vision and strategic priorities are implemented throughout the School of Arts & Sciences.
"I am very excited Dr. Burgess is joining the management team as dean of the School of Arts & Sciences," said Dr. Ivan Harrell, executive vice president of Academic & Student Affairs.  "Knowing he came to the college as an adjunct is especially important, because he will be able to relate to this large population of educators who are so vital to the success of this institution," Harrell stated.
Prior to joining GPTC, Burgess was employed for 28 years at DeVry University in Atlanta.  While at DeVry, Burgess served in the following capacities: Dean of the College of Liberal Arts & Sciences/College of Health Sciences; Associate Dean, General Education; Assistant Dean, General Education; and Senior Professor, General Education.   Before working at DeVry, he spent four years as an instructor at his alma mater, Benedict College.
"I'm thrilled about my new position as dean of Arts & Sciences," said Burgess.  "Every enrolled student at Georgia Piedmont takes Arts & Sciences courses, and I'm looking forward to leading a team of dedicated professionals who take pride in providing our students a solid foundation in General Education," he stated.
Burgess completed his doctor of philosophy degree at Colorado State University, where he defended his dissertation, "Spirituality and Leadership: How Male African-American Leaders in Higher Education Perceive the Influence of Spirituality in their Decision Making."  He holds a master's degree from The Ohio State University and a bachelor's degree from Benedict College. Additionally, Burgess has earned a leadership certification from the Georgia Association of the Certification of Teachers (GACE).