Testingfg of Ads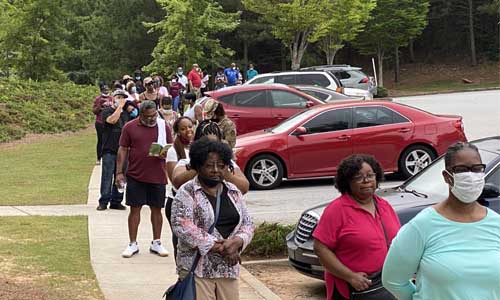 A look at some early results for key local races
DeKalb County Sheriff Melody Maddox appears headed for a runoff with either Ruth "The Truth" Stinger or Antonio "Block"  Johnson, who are battling for second place, according to unofficial early results.Run-offs are scheduled on Aug. 11.
DeKalb County's early results were finally posted June 10 with a few of the 100 precincts still out. A  myriad of  problems were reported  statewide on June 9, Election Day, slowing down the process. Absentee and provisional ballots still had to be counted, officials said on Wednesday.
Maddox and her challenger are vying to fill the unexpired term of retiring Sheriff Jeff Mann for the remainder of 2020 in a special election and the full four-year term for sheriff that would begin in January 2021. No one in the races received 50 percent plus 1 vote, making it necessary for the run-offs.
There were eight Democrats and one Republican in the sheriff's race. The Democrat who wins the primary will face the lone Republican in the November General Election.
In the Board of Education, District 3 race, Deidre Price and Willie Mosley also appear headed for a run-off. Price received 5,253 votes (44.40 percent). Willie Mosley received 3,420 votes (28.91 percent).
In the Board of Education District 5 race, incumbent Vickie Turner commanded the lead and was re-elected with 7,981 votes (55.7 percent), defeating three challengers, according to unofficial results.
DeKalb Tax Commissioner Irvin Johnson was re-elected with an overwhelming 50,597 votes (66.26 percent), defeating Roslyn McCaskil, who received 25,768 votes (33.74 percent), according to the unofficial results.
Here's a look at other results in key races: