Testingfg of Ads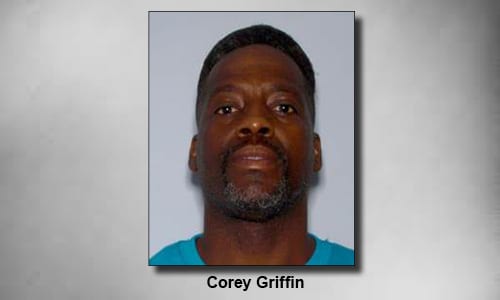 THIS STORY HAS BEEN UPDATED
A man who is accused of brutally sexually assaulting two women in their home in Clarkston is in custody. 
Corey C. Griffin, 48, was arrested on June 24 on a warrant by the DeKalb County Sheriff's Office after Atlanta Police received a 911 tip. 
 Police had been searching for Griffin since April when other attacks happened in the Stone Mountain area but had no address for him.
 The Atlanta Police Department responded to a 911 tip after a BOLO was issued for Griffin and someone reported his whereabouts. Atlanta Police captured him and held him for DeKalb County and the Clarkston Police Department.
Griffin attacked the Clarkston roommates on May 11. The suspect had knocked on the back door of the victims' residence on Market Street claiming he was looking to do yard work, but the woman who answered the door declined. The suspect left without incident, police said. The two women also left their residence soon after.
Later that evening, one of the women returned home and upon entering the residence was immediately attacked by Griffin, who was inside the residence. Griffin attacked her with a blunt instrument and sexually assaulted her. The victim's roommate arrived home soon after and entered the residence. The suspect viciously attacked the unsuspecting roommate as soon as she rounded the corner, police said. During the altercation, both victims were able to escape the house, at which time the suspect fled on foot, police said.
A K-9 and helicopter from the DeKalb County Police Department responded to assist with the search. However, the suspect was able to evade arrest. Within the weeks following, there were other violent crimes in the surrounding Stone Mountain area that are believed to have been  committed by the same perpetrator, police said.
Through DNA and other evidence, the Georgia Bureau of Investigations Division of Forensic Services was able to identify the suspect as Corey C. Griffin.
 Several outstanding warrants for Griffin are on record in DeKalb County for various charges including simple assault, sodomy, obstructing or hindering a person, aggravated assault (4 counts), terroristic acts, stalking, burglary (3 counts), rape (2 counts), false imprisonment, and home invasion.