Testingfg of Ads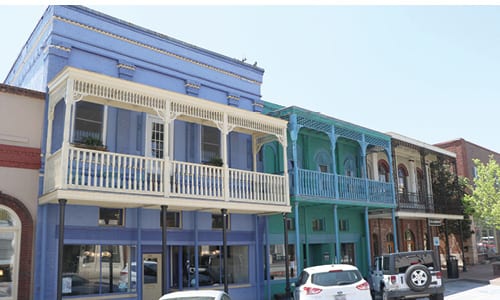 The Originals, filmed in Conyers since 2013, has finished its five-year stint in the city. Conyers officials marked the premiere of the fifth and final season of the vampire episodes, which aired on April 19, tweeting that the white oak stake prop used in  "The Originals" is now on loan to the Carter Library. The prop is part of an exhibit highlighting President Jimmy Carter's role in the creation of the first Georgia Film Commission in 1973 when he was governor.
"That stake, apparently, is the only thing that can kill a vampire," said Jennifer Edwards, director of the city's PR and Tourism Department. "We haven't figured out yet what we're going to do with it, but we are planning to get it back and use it in our tourism efforts."
People come from around the world to Conyers to see the places where the scenes were shot from The Originals, Edwards said.
The city received several other props used in the series after production was completed in December 2017.
"They gave us some gravestones, angels, pieces of wrought iron gate, and boxes of Mardi Gras beads," said Edwards.
City officials say although the production of "The Originals" has ended, the film industry is still booming in Rockdale County.
"Warner Brothers, which filmed The Originals, has already signed up to lease another 300,000 square feet for productions," said Gina Hartsell, Conyers-Rockdale Economic Development Film Office and project manager. "They've committed to another five years. They have boosted not only economic development but tourism, with people coming from as far away as Germany wanting to see the places where films such as The Originals have been made here."
Over the years, Warner Brothers and 20th Century Fox, Hartsell said, have leased a combined total of about 500,000 square feet for their productions in Conyers.
"Conyers and Rockdale County have benefited greatly from the film industry. When film crews come, they spend lots of money," Hartsell said. "Just to give you an example, The Originals' Georgia Power bill was over $40,000 a month.
"They had 300 full-time employees and hundreds of extras who worked on set. Just about everyone who lives here has someone in their family who has worked in or been involved with film."
Hartsell pointed out that several residents have opened their homes or properties for filming crews, while others have provided services such as catering, construction and makeup artistry.
"We've got a lot of people in our community who are film friendly and we have a range of landscapes that can be used in films. We've got homes from the 1800s to modern-day mansions," Hartsell said.
Film crews also have found ideal sets in places such as Rockdale County's Costley Mill Park, which offers beautiful, rustic landscapes that are adaptable, as well as the International Horse Park.
Hartsell said even businesses that were not part of the set have benefited, receiving compensation for their inconvenience when streets were closed for filming.