Testingfg of Ads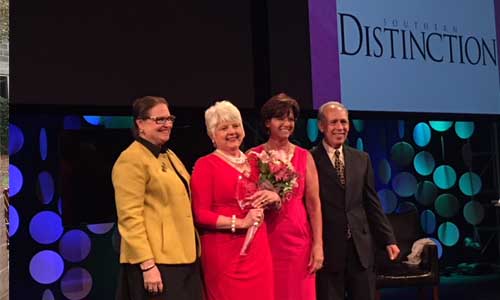 Jean Yontz was announced as the Woman of the Year at the first annual we3 Women's Conference, presented by the Conyers-Rockdale Chamber of Commerce.
Yontz, executive director of Phoenix Pass, a nonprofit for transitional housing for women and children, was presented the award on Oct. 20. She was recognized as a woman who has distinguished herself, her profession, and her commitment to uplifting women in the Conyers-Rockdale community. Other finalists were Robin Chance, branch manager for Georgia United Credit Union, and Vickie Stevenson, executive director of Project Renewal Domestic Violence Intervention Program, Inc.
Over 250 women attended the conference, which was held at Discovery Point Church in Conyers. The goal was to engage, empower, and educate. The attendees had the opportunity to connect with businesses and women leaders in the community during the full-day event.
"The community response was amazing, and the room was packed as women from Rockdale County and the surrounding areas came together to celebrate each other," said Cheryl Young, who oversees membership with the Conyers-Rockdale Chamber of Commerce.
Attendees experienced the empowering messages of women leaders in the community. The keynote speaker was Andrea Bowens-Jones, president/CEO of IDG Vision, LLC and Certified John Maxwell Coach, Speaker and Trainer.
The conference also included a breakout session with a diverse panel including Yontz; Dee Barnes, chief executive officer and president of Evans Tool & Di, Inc.; Jenae Duncan, owner of Jenae's Dance Experience; and Katrina Young, who serves on the RCPS Board of Education.