Testingfg of Ads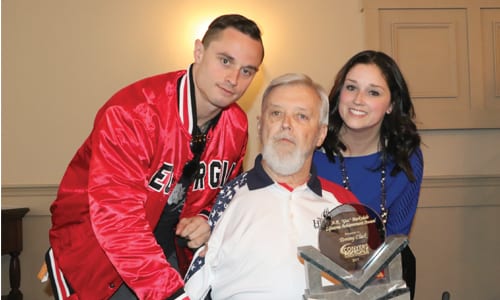 Retired Army Capt. Tommy Clack received the A.R. Gus Barksdale Lifetime Achievement Award, the Conyers-Rockdale Chamber of Commerce's highest honor, at the organization's 62nd Annual Meeting. Clack was among six award recipients honored during the Chamber's luncheon at the Georgia International Horse Park on Jan. 30.
Clack, who is president and chairman of the Walk of Heroes Memorial in Conyers, has assisted veterans for over 40 years. After losing three limbs and suffering internal injuries on May 29, 1969 while serving in Vietnam, he turned his tragedy into victory by advocating for those who serve the United States. Since 1970, Clack has been recognized more than 200 times on national, state and local levels for his leadership and accomplishments, said Dee Barnes, the Chamber's outgoing chairperson.
"Capt. Tommy Clack is a true hero who has taken a life-altering event and blessed others over and over again," said Barnes. "He's a true patriot with his favorite sayings: 'Freedom isn't free.' and the other saying: 'Only two defining forces have ever offered to die for you — Jesus Christ and the American soldier. One died for your soul and the other died for your freedom.'"
Clack said he felt honored to accept the award on behalf of the Walk of Heroes Memorial, crediting teamwork for the memorial.
"It is all of us that make this happen," said Clack, adding that "there is no 'I' in team," which he said is an acronym for "Together, everyone accomplishes more."
Clack expressed his gratitude to God for being able to serve: "The first words out of my mouth every morning is 'God, thank you for another day to live.'"
Other honorees include:
Conyers Animal Hospital, which was named the Education Partner of the Year. The hospital was honored for providing students of Rockdale County Public Schools with work-based learning apprenticeships and internships, and for its participation in science fairs, career fairs, fundraisers and other activities.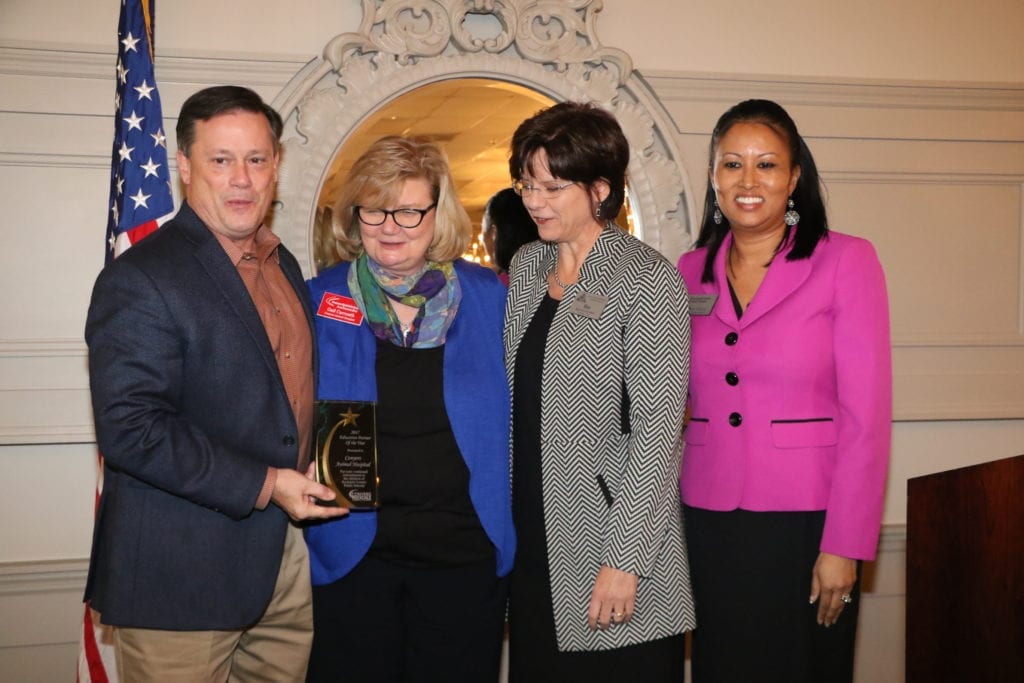 Andrea Bowens-Jones, who was honored with the James P. Culpepper Volunteer of the Year Award. Jones birthed the Chamber's Women's we3 Conference. The inaugural conference, which was held last October to engage, empower and educate, drew over 250 participants, 25 vendors and 15 sponsors.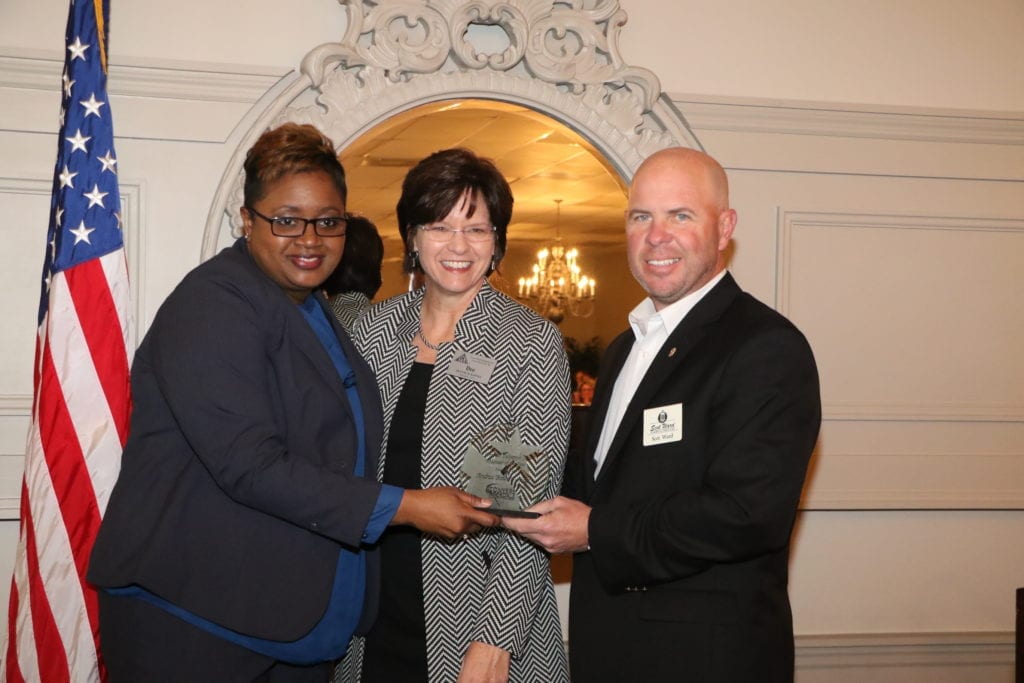 Darlene Godwin, of Synovus, was named the Chamber's Ambassador of the Year. Godwin earned the highest overall points—960—for participating in various Chamber events ranging from ribbon cuttings to network luncheons and after-hours events throughout 2017. She was unable to attend due to illness. Earl Wise, Synovus Senior VP, accepted the award on Godwin's behalf.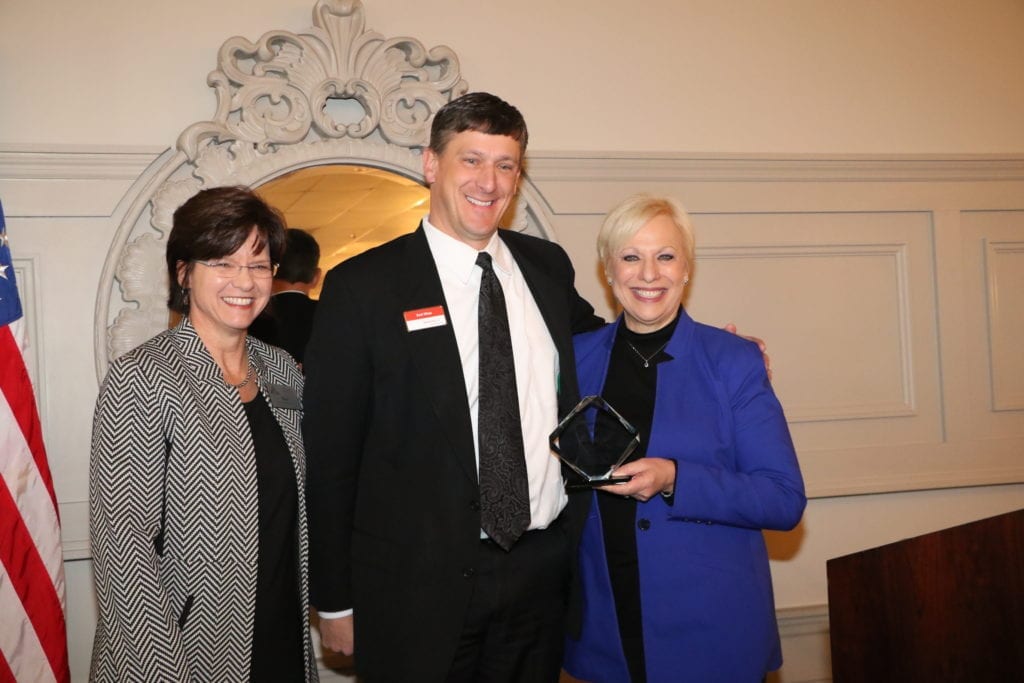 Muddessar Ahmad, a businessman and philanthropist, received the inaugural Mayor Charles Walker Community Spirit Award named for the late mayor who was elected in 1977 and served for 20 years. Ahmad, who serves on various boards and civic groups throughout Rockdale County, was honored for his support of schools, public safety, churches, and veterans, just to name a few. A large pavilion constructed at the Walk of Heroes Memorial stands as a testament to his generous support.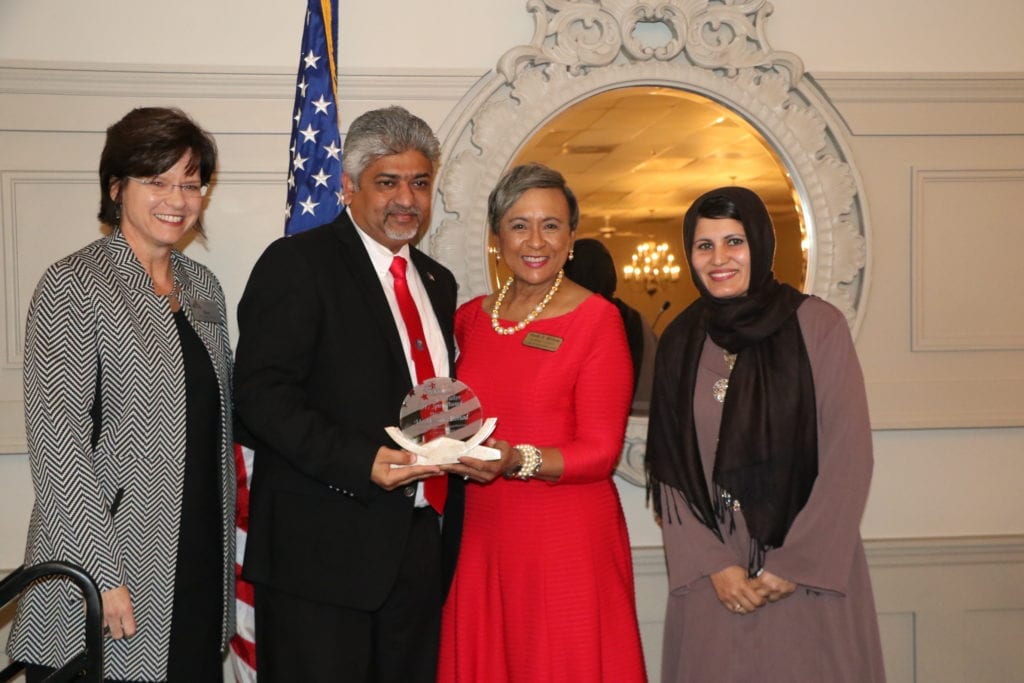 Shawn Bromelle, president of Pro Cutters Lawnscapes, which provides commercial and right-of-way landscape services, received the Jerry Barboe Small Business Person of the Year. Bromelle and her husband, Steve, launched their company in 2010. The company maintains the state's entry points and welcome centers and rest areas. Its clients include the state Department of Transportation, the City of Conyers and other governments and municipalities. Shawn Bromelle was honored for her volunteer work in Rockdale schools including working in the science lab at Lorraine Elementary School, coordinating fundraisers for Rockdale Magnet School, and mentoring students and providing financial support at Conyers Middle School.