Testingfg of Ads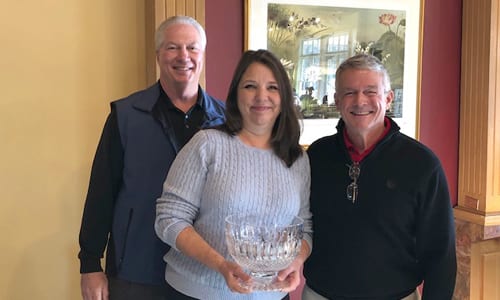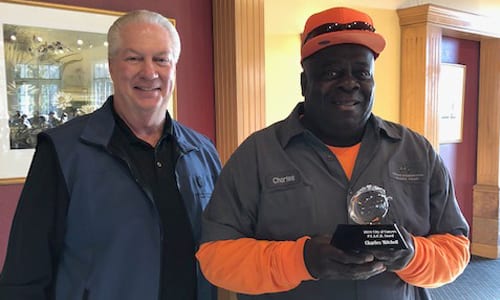 Two Conyers employees were recognized for their work ethic, leadership and positive attitudes at the city's annual employee breakfast held on Jan. 9 at Cherokee Run Golf Club.
For 20 years, the city has been presenting the Dee Buggay Award of Excellence, or the Employee of the Year award, at the Mayor's State of the City Address. But in recent years, the award has been presented at the employee breakfast so employees are recognized in front of their peers.
The recipient of the 2018 Dee Buggay Award of Excellence is Elizabeth Kimbrell, office manager in the Public Works and Transportation Department. Kimbrell was described by her supervisor, Director of Public Works and Transportation Brad Sutton, as "friendly, professional, eager to learn new things, detail-oriented and a team player." 
Kimbrell has been an employee with the city of Conyers for 12 years. She is a graduate of Rockdale County High Schoo, and the University of Georgia with a bachelor's degree in Fine Arts and a concentration in Art History. She was lauded for her skills in helping resolve issues residents may be experiencing, coordinating with supervisors in the department, managing insurance for the city's buildings, equipment and vehicles, entering requisitions and invoices, as well as overseeing the surplus of equipment. Kimbrell was surprised by several family members who were invited to share in the recognition.
The city also introduced a new award called the P.E.A.C.H. Award, which stands for Positive Employees Are Conyers's Heartbeat. This award was presented to an employee who is positive, outgoing, and goes out of their way to make experiences pleasant for customers. The inaugural P.E.A.C.H. Award was presented to Charles Mitchell of the Georgia International Horse Park. 
Mitchell was described as happy, perpetually cheerful, gets along well with everyone, is always willing to help others and motivated to do a good job. Mitchell is a 10-year employee of the city of Conyers and is an Operator II in the Facility Maintenance division of the Georgia International Horse Park.
"We are so proud of our employees and love to take opportunities whenever we can to recognize their attributes and the ways they excel in their positions," said City Manager Tony Lucas. "Elizabeth and Charles are two fine examples of employees that really go above and beyond for our citizens every day and we offer our congratulations to them."