Testingfg of Ads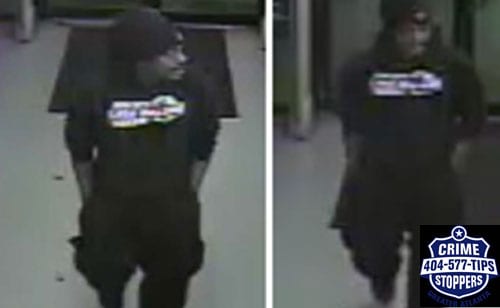 Robbers are becoming more clever in their holdups. Conyers police are asking for the public's help in finding the suspect who waited in a bathroom stall until closing to rob a Fred's discount store.
"It is unusual. I can't think of any robbery we have had recently like this one," Conyers Police Sgt. Kim Lucas said.
Police said the black male entered Fred's on New Year's Eve around 8:40 p.m. and waited in a women's bathroom stall before ambushing an employee at 9 p.m., closing time.
The subject was armed with a black semi-automatic handgun and used duct tape to restrain the victim.
"The store's video shows the suspect had come in earlier and looked around, scoping out the store. He left and then returned a short time later and lay in wait in the bathroom until the store closed," said Sgt. Lucas. "He ambushed the employee. She was very scared, but fortunately, she was not hurt."
Lucas said police are hoping other jurisdictions in the metro Atlanta area will pay attention to the Conyers case in the event they may be working similar armed robberies.
Any information leading to the arrest of the suspect may result in a cash reward of up to $2,000, Lucas said.
 Tipsters will remain anonymous and are asked to contact Crime Stoppers with any information.
Call: 404.577.TIPS (8477)
Text: CSA + your tip to CRIMES (274637)
Click: www.CrimeStoppersAtlanta.org