Testingfg of Ads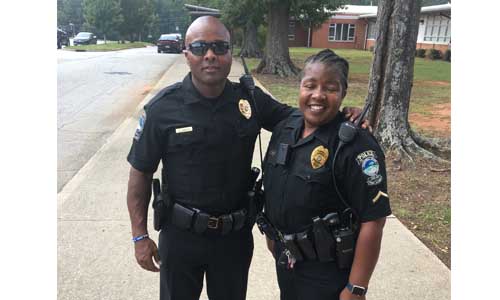 The U.S. Department of Justice is spotlighting the Conyers Police Department's School Resource Officer (SRO) program as one of its grantee success stories.
Officers Charlene Smith and Troy Quick have made a positive impact between the community and law enforcement through their full-time assignment within Rockdale County Public Schools, the Conyers Police Department said. Both of the officers spend their time at Rockdale High School and C.J. Hicks Elementary School and Pine Street Elementary as needed.
The Police Department used a $125,000 grant from the Community Oriented Policing Program to fund one additional full-time school resource officer for three years in Rockdale's public school system starting in 2015 but continued the program.
"The last three years, we have been grateful to use the COPS grant to enhance our SRO program," Chief Gene Wilson said. "We have committed to keeping two SROs in our city schools beyond the depletion of these funds."
Rockdale Schools Superintendent Terry Oatts praised the Conyers Police Department for its partnership with the school system.
"Rockdale County Public Schools works closely with local law enforcement to provide safe learning environments for all students and staff," said Oatts.  "We are fortunate to have two dedicated Resource Officers from Conyers Police Department at our largest high school. These officers build meaningful relationships with students and truly care about their safety and wellbeing."
Conyers Police first dedicated one full-time school resource officer (SRO) in 1994 at Rockdale County High School.
The Police Department said having two assigned school resource officers fully devoted to the schools—one male and one female—has greatly improved law enforcement relationships with students and faculty alike. Crime is down since the SRO program began. Overall assaults at the high school dropped 40 percent and thefts dropped 70 percent comparing 2016 rates with 2017, the Police Department said.
"Officer Quick has been very active in sports programs at the high school, encouraging physical fitness, team building, and other positive interactions rather than merely portraying a law enforcement officer in the school. It is almost as common to see him out of uniform as in his uniform interacting with the students therefore making him more approachable to some people. The female SRO has participated in the RARE Pearls mentoring program. RARE Pearls are high school girls who are at risk of not living up to their full potential because of various challenges," the Police Department said in a report to the U.S. Department of Justice.