Testingfg of Ads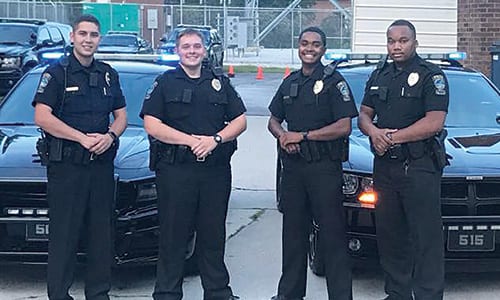 The public is invited to join officers from the Conyers Police Department for "Coffee With A Cop" on Wednesday, Aug. 22, 8 to 9 a.m. at Beasley Drug Company, 933 Center St., Conyers. 
  The Conyers Police Department (CPD) is preparing to once again offer a Citizens Police Academy. The 11-week academy will be held on Tuesdays beginning Sept. 4, 6 p.m. to 8 p.m., at the Conyers Police Department training room, 1194 Scott Street.
"The Citizens Police Academy is one of our most popular community outreach programs," said Police Chief Gene Wilson. "This behind the scenes glimpse into law enforcement is a favorite with citizens because it is so hands-on and interactive."
Academy participants will learn about the various divisions of the CPD, learn safety tips, solve a mock crime scene, obtain identity fraud and cybercrime tips, participate in various scenarios utilizing a judgmental shooting simulator, Taser scenarios and run laser
devices on heavily trafficked roadways. Students will spend one full night with CPD's Special Response Team. This year, active shooter response and a drone demonstration will be added to the regular course.
There is no charge to participate in the academy. Participants must be over the age of 18. 
Those interested in participating in the Citizens Police Academy can download an application from www.conyerspolice.com. The academy is limited to 20 participants.  The deadline for applications is Aug. 28. For more information, contact Sergeant Peggy Franklin at 678-374-5603.