Testingfg of Ads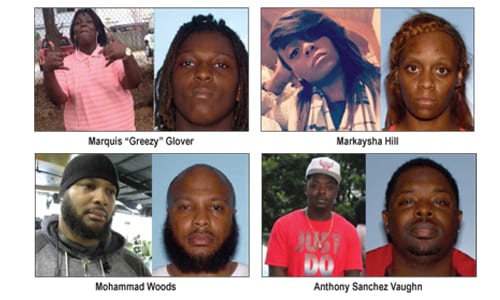 Conyers Police are asking for the public's help in locating four suspects wanted for thefts throughout the City of Conyers and other jurisdictions.
Marquis "Greezy" Glover, 19, is wanted for the burglary of the American Legion concession stand where chips, pickles and sodas were stolen on Nov. 28.  Police are also seeking Glover for a pedestrian robbery on Bryant Street that occurred Oct. 29. Sgt. Kim Lucas said two juveniles who also were involved in the burglary have been arrested.
Markaysha Hill, 25, is wanted on outstanding warrants for multiple purse snatchings. The first event occurred at Kroger in Conyers on Oct. 7. Hill took the victim's purse from her vehicle while the victim was loading groceries into her car. The second event occurred at Target in Conyers on Oct. 20 when Hill took the victim's purse from her shopping cart.
Mohammad Woods, 43, shattered a window of a vehicle in the LA Fitness parking lot at 6 a.m. on Dec. 13, stole a tablet and then checked in at the fitness center for a workout.
Anthony Sanchez Vaughn, 35, is wanted on multiple charges in Conyers, Rockdale, DeKalb and Butts counties. Most recently, Vaughn broke into vehicles at several commercial locations in Conyers.
Any information leading to the arrest of the suspects may result in a cash reward of up to $2,000.
Tipsters will remain anonymous and are asked to contact Crime Stoppers with any information. Call 404-577-8477 or visit www.crimestoppersatlanta.org.