Testingfg of Ads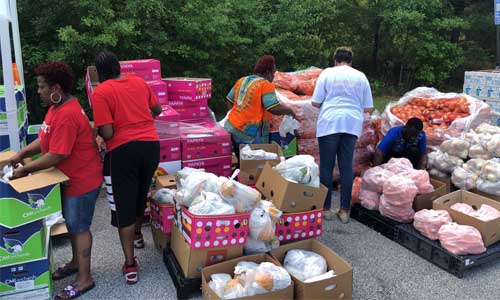 By Mackenzie N. Morgan
OCG News Staff Writer
With the impending coronavirus pandemic, people are seeking ways to cope during uncertain times. For some, the realities of food scarcity have hit hard as local food banks fold under pressure to limit social contact and stores struggle to keep shelves stocked to meet the demands of panicked consumers.
Miles ahead of the COVID-19 virus, Sankofa House Community Food Bank will offer no-touch food assistance to the public on Saturday, March 21, at the Faith Plaza, 1201 Sigman Road, Conyers.
The local Conyers food pantry provides no-questions-asked curbside, drive-through food assistance to people in need in Rockdale and surrounding communities. Founder and operations manager, Miselinda "Missy" Agbaka, said the community's response has continued to increase since the pantry's inception in May 2019.
"People are in a panic. They don't know how they are going to make ends meet so it is important that we not abandon the people," said Agbaka.
Agbaka said her army of volunteers will be taking extra precaution to ensure cleanliness and adequate social distancing. Volunteers will load pre-bagged items into vehicles to keep cars moving and to prevent congregating.  Volunteers also will be provided facemasks and gloves and will be stationed at separate stations, minimizing contact.
Guests can expect a variety of fresh fruits and vegetables, meats, dry goods and other miscellaneous items such as diapers and feminine hygiene products, upon request.
"We are going to do whatever it takes to keep ourselves and our community safe.  We'll keep our hands clean and as long as I have food, I will be glad to serve the community," said Agbaka.
For more information or to inquire about the availability of specific items, call 678-517-2538.