Testingfg of Ads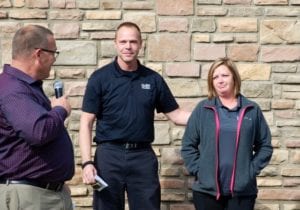 Despite losing practically everything they owned in an early morning house fire in September, Misty Glass and her family have much to be thankful for this Thanksgiving, including a 2014 car donated by GEICO, Caliber Collision and other local businesses.
The family was presented the keys to a 2014 Chevy Malibu donated by GEICO and Caliber Collision-Conyers as part of the National Auto Body Council's Recycled Rides™ program. The program brings together businesses in the collision industry who team up to repair and donate cars to help individuals in need.
GEICO donated the vehicle, which was refurbished by technicians at Caliber Collision in Conyers who volunteered their efforts on their own personal time along with contributions of parts, materials and services from other local businesses. In addition to GEICO, other companies contributing parts and services include Enterprise Rent-a-Car, Rick Hendrick Chevrolet, Conyers Tire, Quality Wheel and Statewide Wrecker.
This Recycled Rides gifting is especially meaningful for the Caliber Collision team because it is going to one of their own. Misty is a service advisor at Caliber's Covington location.
"At Caliber, our daily purpose is to restore the rhythm of life for our customers, teammates and others in the communities we serve," said Mitch McMaster, Caliber Collision vice president. "Misty is a valued member of the Caliber family and we thank the many businesses and individuals who have joined us to provide Misty and her family with this gift of transportation as they begin to rebuild their lives."
Businesses throughout the community filled the car with gifts that were donated to Misty, her husband Will, and two teen sons.
"Recycled Rides is a tremendous opportunity for GEICO to collaborate with collision industry partners to support our local community," said Carl Tims, GEICO assistant vice president of claims. "We know this vehicle will help Misty and her family a great deal as they continue to recover from the tragic loss they suffered."
This year, Caliber Collision has donated nearly 130 vehicles through its Recycled Rides program.