Testingfg of Ads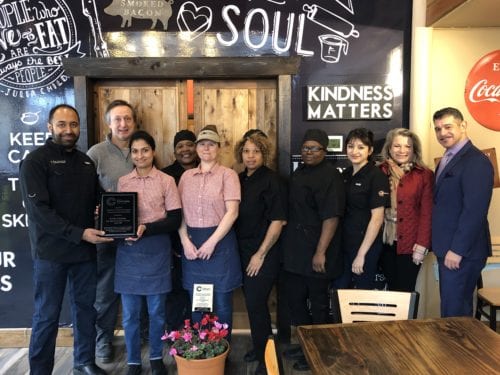 The Conyers Downtown Development Authority (DDA) recently presented the 2019 Outstanding Achievement Award to Keish Momin for his efforts in the renovation and beautification of Iron Skillet Southern Kitchen and 908 Special Events located at 908 Commercial Street in Olde Town Conyers.
Built in 1900, 908 Commercial Street formerly housed an agriculture emporium, insurance office, furniture store, and retail space before the restaurant side that is Iron Skillet Southern Kitchen opened in June 2019. Momin purchased the propertyin 2017 and began making renovations to the restaurant and special events facility.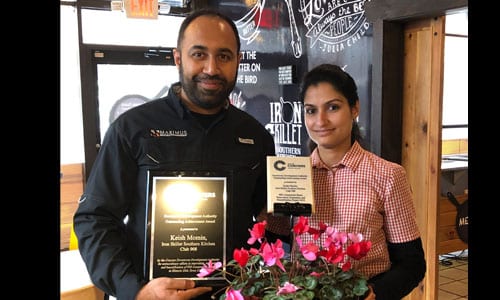 Keish Momin and Sonia Momin
"The Conyers Downtown Development Authority Board was thrilled to see another property improved in Olde Town Conyers and with it, the addition of a restaurant serving delicious, authentically southern dishes," said DDA Chairman Brandon Mitchell. "The friendly staff, welcoming atmosphere and diversity of options—whether you want comfort food for lunch or to hold a meeting or special event in a dynamic space—is ideal for our historic district."
This is the fifth year the DDA has presented the Outstanding Achievement Award to a business in Olde Town Conyers that has taken great care and consideration with beautification and preservation of buildings in the historic district. Past recipients of the award were Andy Shipp and Steve Carter for their preservation efforts of the Old Coca-Cola building at 882 Main Street, Jorge Flores for improvements to his law office located at 951 Railroad Street, John Shelley of the Magnolia Assisted and Memory Care facility at 964 South Main Street and Keish Momin for improvements to Las Flores Olde Town Mex at 957 South Main Street.
The Conyers Downtown Development Authority was created by city of Conyers to be a catalyst for revitalization, promotion, development and redevelopment in Olde Town Conyers. The Conyers DDA Board of Directors consists of Jacob Bailey, Al Chapar, Jr., George Levett, Jr., Renee Marrett, Brandon Mitchell, Keish Momin and Ashley Rustom. The DDA meets the first Tuesday of each month in the city manager's office at Conyers City Hall at 6 p.m. and the public is invited to attend.