Testingfg of Ads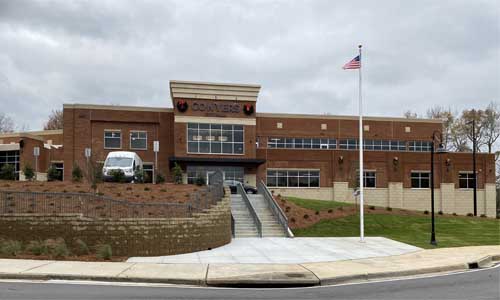 CONYERS—The open house and ribbon cutting for the new Conyers City Hall on Monday, Dec. 21, has been postponed due to the rising number of COVID-19 cases in Conyers and Rockdale County. The county has also been categorized as having a high transmission rate according to information provided by the Rockdale Emergency Management Agency.
"To err on the side of caution and with the safety of all in mind, the difficult decision was made to postpone the December 21 open house in the hopes that the event will be rescheduled in the coming months," said Mayor Vince Evans. "The building is still very much open for business and we're hopeful that those who stop in to conduct business or attend a meeting will feel welcome and enjoy a glimpse of its beauty."
A virtual tour of the public areas of city hall will be available on the city website, conyersga.com, and on the city's social media channels beginning Monday, Dec. 21.
"While it's not quite the same, we're grateful that technology can be utilized to offer a virtual tour for those interested in seeing the building," added Evans.
The new Conyers City Hall is located at 901 O'Kelly Street and is a 38,000 square feet, two-story building that was completed on schedule under the budgeted $13.5 million. Conyers officials ceremonially broke ground on the new facility in July 2019 and architect and design firm Precision Planning, Inc., and construction firm Reeves Young began work on the site in August 2019. City staff relocated to the building on Dec. 4, 2020.
The following departments are housed at Conyers City Hall: Planning and Inspections, Administration, Finance, Human Resources, Code Enforcement, Conyers Security Alert, Public Relations and Tourism, Technology, City Clerk's Office, Mayor's Office, and City Manager's Office. The building also houses the new council chambers, where city council meetings are held on the first and third Wednesday of the month.