Testingfg of Ads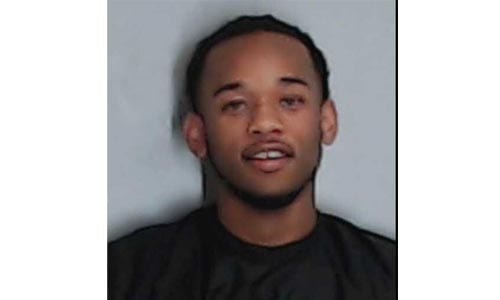 A convicted gunman has been sentenced to life in prison without parole for his role in a deadly armed robbery scheme, the DeKalb County District Attorney's Office said on Friday.
Jurors returned guilty verdicts against 20-year-old Gregory Montgomery on charges of murder, felony murder, conspiracy to commit armed robbery, aggravated assault and weapons offenses in connection with the shooting death of 26-year-old Justuss Rogers.
Rogers was gunned down on Oct. 23, 2017 in the 4300 block of Pinnacle Drive in Stone Mountain. According to the investigation, he was lured to the location by co-defendant Lakoaia Johnson, who told the victim she needed a ride to pick up her child. She had just sent pictures of Rogers counting money from his cell phone business to a group chat including Montgomery. Montgomery asked Johnson to bring the victim to his location so he and his friends could rob him.
When Johnson and Rogers arrived, they were met by a group of men waiting in the cul-de-sac. Rogers quickly exited the passenger seat while Defendant Montgomery approached with his gun drawn and pointed at the victim. He fired four times, fatally striking the victim, who tried unsuccessfully to reach for his own weapon in defense.
The woman and Montgomery fled the scene. Detectives later found Montgomery's abandoned backpack which contained a .40 caliber magazine and a cellphone with pictures and video of the defendant holding a .40 caliber gun and dressed in clothing matching witness descriptions of the alleged shooter.  In addition, four .40 caliber shell casings were recovered from the scene. A security guard at a nearby apartment complex also confirmed seeing the two defendants running from the area.
Prior to trial, co-defendant Lakoaia Johnson entered a guilty plea to aggravated assault for her role in the crime. She was sentenced to 20 years to serve 15 in custody.
During a sentencing hearing on Friday, March 1, before DeKalb Superior Court Judge Asha Jackson, who presided over the trial, Montgomery was sentenced to life without the possibility of parole.
The case was prosecuted by Senior Assistant District Attorney Shannon Hodder with assistance from Senior Assistant District Attorney Alana Driscoll and DA Investigator Chris Wieseman.
Detective Vance Van Hees with the DeKalb Police Department led the initial investigation.