Testingfg of Ads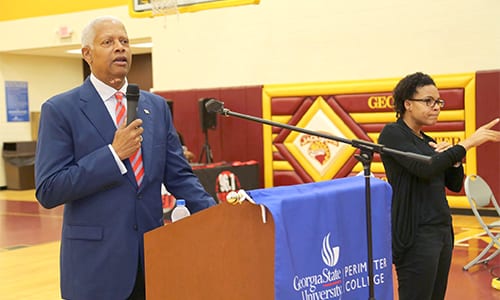 Congressman Hank Johnson (GA-04) served as the keynote speaker at Georgia State University's (GSU) Constitution Day kick-off event at the college's Perimeter campus in Decatur.
Constitution Day, Sept. 17, marks the day 231 years ago when attendees at the Convention at Philadelphia signed the document that is the foundation of our United States government.
GSU's event focused on how America's immigration policies can address liberty, equality and security.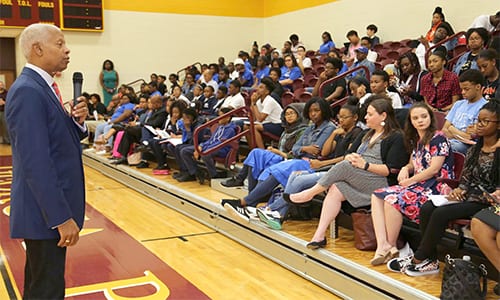 "When the Constitution was signed, it gave our country a foundation of justice, equality, and dignity. We're here to celebrate that today. But it is up to us to bring those values into the 21st Century. To help grow our definitions of justice. Of equality. Of human dignity," said Congressman Johnson. "We need to acknowledge that our nation thrives today because of our refugees and our immigrants. Our diversity makes us stronger."
More than 120 colleges, high school and middle school students had the opportunity to ask the Congressman questions about his career in politics, his motivation for writing legislation; and balancing the rule of law with justice and democracy.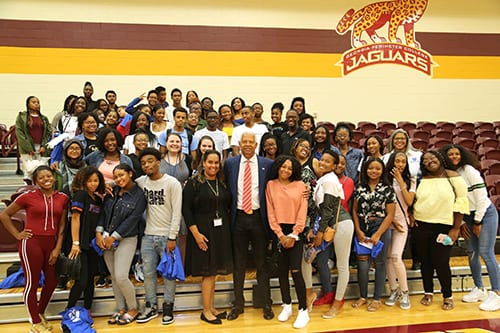 "I am proud to stand here before a group that came from various immigrants who were black, white, brown, Latino, Asian-American, men, women, LGBTQ, Christian, Muslim, Buddhist, and Jewish in one America," said Congressman Johnson. "So, in the spirit of the Constitution and in the unity that it inspires, today we represent the great virtue and fulfillment of the melting pot that our great nation aspires to be."
GSU hosted several events to observe Constitution Day at the university's Alpharetta, Clarkston, Decatur, Dunwoody and Newton campuses.
A full photo album is available here, from the Congressman Hank Johnson's Facebook page.