Testingfg of Ads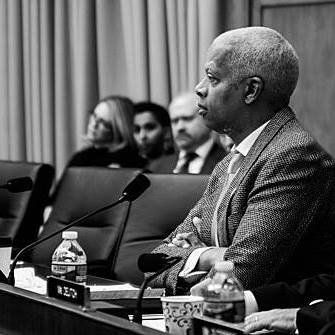 Congressman Johnson Highlights Impact of Free Tax Preparation, Importance of Tax Time Savings
DECATUR—On April 6,
(GA-04) teamed up with the Computer & Communications Industry Association (CCIA) to inform residents about the Internal Revenue Service's and state funded free tax preparation options available this tax season such as the Free File, Volunteer Income Tax Assistance (VITA), and AARP Tax-Aide programs.
The event was held at Hillcrest Church of Christ in Decatur.
Congressman Johnson has participated in Free File awareness events throughout Georgia's 4th district for the past several years.
"The Free File and VITA programs are excellent examples of how government, the private sector, and community-based organizations can work together to provide a critical service to the people of Georgia," said Congressman Johnson. "I am proud to partner with these organizations to offer this opportunity for hard-working Georgians to learn more about how they can file their federal and state taxes online or in person, completely free of charge."
Tracey Walker-Carter with the IRS highlighted how these beneficial resources continue to remain an integral part of the agency's growing collection of online resources for taxpayers. "Thanks to the IRS2Go mobile app, once taxpayers have finished preparing and filing their taxes, they have the ability to track their refund status, make payments, and even sign up for helpful tax tips."
"There is not another program out there where trusted government-sponsored tax preparation services are being provided free of charge by the industry, while not costing the taxpayer a cent," said Erin Moos, representing the Intuit Financial Freedom Foundation, which donates TurboTax Free File Edition to the IRS Free File program. Moos elaborated on her company's support for the program, stating, "It's easy to do—and it's the right thing to do."
"We appreciate the continued support of Congressman Johnson and all others in attendance, who have been champions of Free File and VITA and true Tax Time Allies. Thanks to these efforts, qualifying Georgia taxpayers are able to claim and save more of their refunds," said David Macklin, representing CCIA.
Macklin also encouraged those in attendance to help inform others within their community, loved ones, and friends about the Free File program.
"Taxpayers can't use top-of-the-line, free tax prep resources if they don't know they're available. Tax Time Allies provides a platform to help promote initiatives like Free File, VITA, and TCE to those who need it most. Anyone in Decatur and throughout the state of Georgia can become a part of the national network trying to increase awareness of these incredible resources."
Free File provides lower and moderate-income taxpayers with brand-name tax preparation software to file their federal (and in many cases, their state) taxes completely free of charge. Seventy percent of taxpayers nationwide qualify for Free File.
To access free IRS and Georgia-sponsored tax preparation services, visit www.irs.gov/freefileor www.dor.georgia.gov/free-file-alliance. To find a local free tax prep site, visit www.irs.gov/vita. For Decatur area VITA locations call United Way's 211, email vita@unitedwayatlanta.orgor click here.
Additional pictures available upon request.