Testingfg of Ads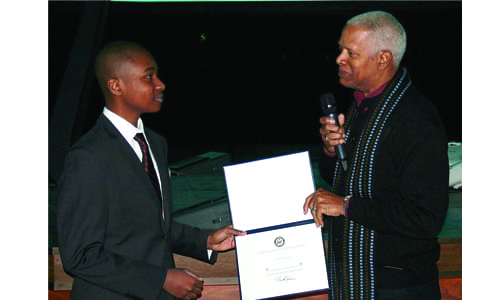 Congressman Hank Johnson (GA-04) celebrated the winners of his third-annual Congressional App Challenge at a Feb. 3 reception for the students, teachers, parents and judges who participated in this year's competition.
"It's so important that our young people see what the future is," said Johnson. "Today, our kids heard from Ryan Killgore, a Cartoon Network game developer, who is working in an industry that generates over $100 billion. These are the kinds of top-earning professions that the App Challenge gives our kids exposure to. We must continue to support our educators and parents who encourage their kids to compete in the App Challenge."
The Congressional App Challenge is a competition that allows students to compete against their peers by creating and an application "app," or game for mobile, tablet, or computer devices. It is designed to encourage student participation in computer science and coding.
The reception was held at the Fernbank Science Center, as a part of a nationwide program that celebrates bright, young minds across the country.
Seventy-five students entered the Congressman's 2017 App Challenge as individuals or in teams of up to four students per team. The judging committee included Georgia Tech professor Jason Freeman; Microsoft education partner, Dr. Elaine E. Bryan (Grant –Bryan Foundation); and President of the Village Tutorial Enrichment Program, Cheryl Allie.
This year's first-place winner, 16-year-old Lithonia resident Jonathan Daniel (creator of the "TEFAP Tracker" mobile application), said he enjoyed creating and developing the app, which will help local food banks in his community by tracking their inventory in a more efficient way.
"App development is what I enjoy to do because you can make an app do whatever you want and whatever you need," said Daniel who attends the Georgia Cyber Academy. "I enjoy making apps cleaner, more precise and learning from my mistakes; every time I sit down and start to create."
Second-place winners were a team of young ladies from the Rockdale Career Academy in Conyers: Gabrielle Wood, Nakira Oglesby and Brittany Valencia; who said they created the "One Aid" medical app because health issues are something that everyone could relate to.
Third-place winner Cameron Bennett, who also attends the Rockdale Career Academy, said that he received motivation to create his "Auxilla" music app after attending a program sponsored by Gov. Deal, brainstorming with friends about similar technologies. Bennett has other apps that he is developing and has been accepted into Stanford University and the Georgia Institute of Technology.
Daniels has been invited to attend the National "House of Code" Congressional App Challenge Reception in Washington, D.C.
All of Johnson's winners are invited to tour iHeart Radio Studios, Georgia State University and Turner Broadcasting/Cartoon Network, as well as attend a Georgia Tech Yellow Jackets basketball game.