Testingfg of Ads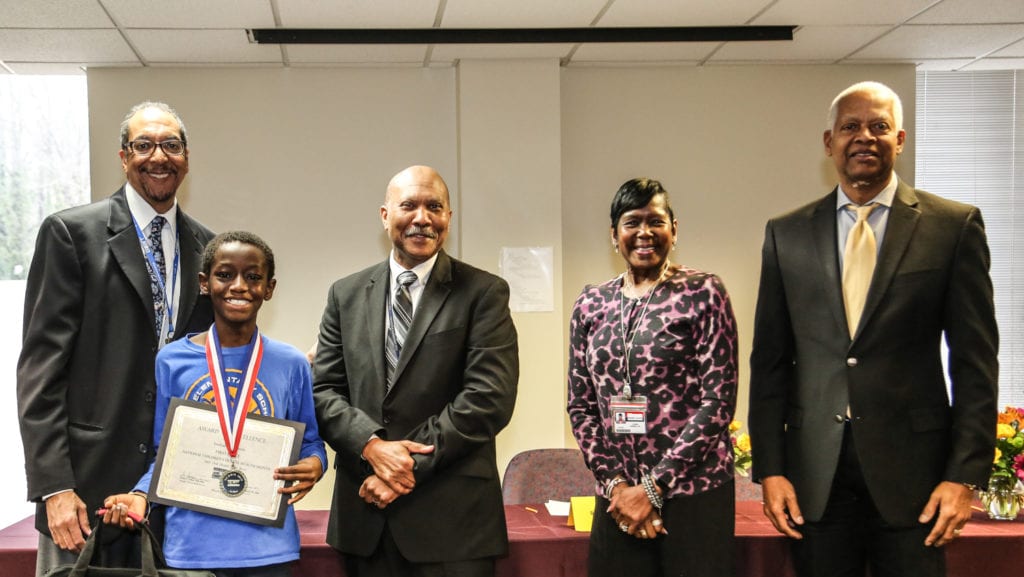 Pictured L-R: Dr. Dwayne Turner, First-Place Winner Issahaku Alhassan, Dr. Leslie Richmond, Jo Ann Harris and Congressman Hank Johnson.
On March 1, Congressman Hank Johnson (GA-04) joined health officials, teachers, and parents from across DeKalb County to honor elementary school students who competed in the 14thAnnual Dental Quiz Bowl Competition.
Hosted at the DeKalb County Board of Health's Winn Way office, the competition was a day filled with celebrating the importance of oral health. There were giveaways for students who competed and awards and medals for the winners.
Johnson served as the keynote speaker of the program.
"Early in my tenure as a Congressman, there was a terrible story in Washington where a boy who had a dental infection would later suffer from that infection ravishing his body and it was all because he and his family did not have the knowledge of how important dental care is; and they didn't have the ability to access the care," said Johnson, who was first elected as Congressman in 2005. "Oral health is definitely important and the work that DeKalb County is doing for our children is truly critical for their well-being."
Other guest speakers included DeKalb County School District Lead Nurse Jo Ann Harris, C.H.A.P.S. (Community Health and Prevention Services Director); Dr. Leslie J. Richmond; and DeKalb County Board of Health Services Manager Dwayne Turner.
This year's first-place winner was Issahaku Alhassan of Jolly Elementary School. Second place went to Skylar Chisolm of Barack H. Obama Elementary School and third place went to Augusto Gonzalez of Hightower Elementary School.
Some of the questions the students answered in their quest for the gold medal were: How often should you change your toothbrush? How many premolars are in a primary dentition? How do you remove plaque from between the teeth?
Johnson presented awards to the winners and talked with students and teachers at the end of the program about school and other topics.