Testingfg of Ads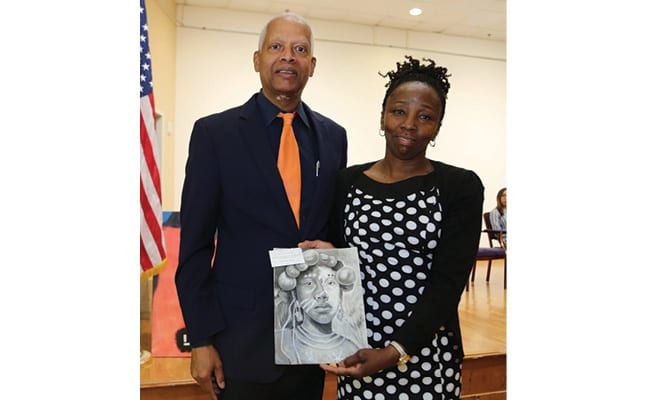 Congressman Hank Johnson, District 4, awarded four students scholarships worth $70,000 in the 2018 Congressional Arts Competition. Johnson announced the awards at the Lou Walker Senior Center in Lithonia during a reception for the winners on April 21
Arantza Pena Popo, a junior at Arabia Mountain High School in the city of Stonecrest, was named the grand prize winner. Popo earned a four-year scholarship worth $12,000 a year to attend the Savannah College of Art & Design (SCAD) for her "Cultural Portrait" piece.
 Arantza described her work as a "cultural portrait of facial adornment from different cultures." The Stone Mountain student used charcoal to create the winning piece. She will travel to Washington, D.C., in June to see her work displayed in the U.S. Capitol building, where it will hang for a year with other Congressional Art Challenge winners from around the country.
Sindi Patani, a senior at Brookwood High School, was named first runner-up. Patani won a $12,000 scholarship to the Art Institute of Atlanta for her "My Inner Yellow" photograph. Her work will be displayed in Congressman Johnson's district office for a year.
Second runner-up went to Elizabeth Claire Patton, a senior at St. Pius X Catholic High School. The Stone Mountain student was awarded a $7,500 scholarship to the Art Institute of Atlanta for her "Image of Me in Urban Savannah" photograph.
Third runner up was Esther Gibbs, a sophomore at Arabia Mountain High School. Gibbs was awarded a $3,500 scholarship to The Art Institute of Atlanta for her "Picture of Myself in African Adornments" pencil on paper drawing.   
Patton's and Gibbs' photographs will also hang in the Congressman's district office for a year.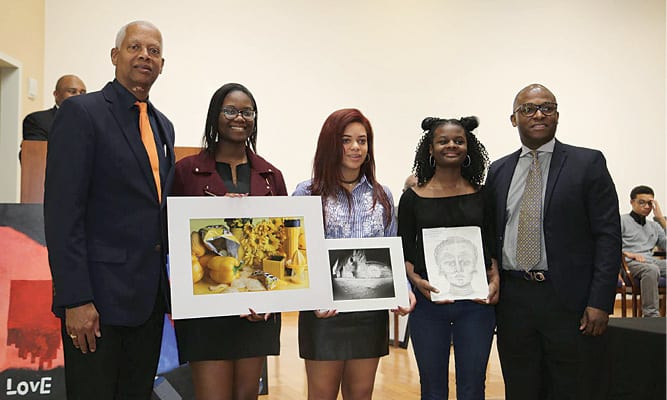 Since 2007, Congressman Johnson has awarded more than $400,000 in arts scholarships to Fourth District students.
"What makes this competition so gratifying is that these young artists are sharing their lives with us," said Johnson. "This art represents the freedom our students have to express their feelings and emotions in whatever medium they choose."
This year's art pieces will be placed alongside last year's competing pieces in an art exhibit debuting May 19 at the High Museum in Atlanta. The students' pieces will hang in the High Museum of Art as a result of a Science, Technology, Engineering, Arts and Math (S.T.E.A.M.) partnership Congressman Johnson has with the museum entitled: Full S.T.E.A.M. Ahead.
Art reception guest speaker and judge, Steve R. Allen, is hosting a class at the May 19 event for students and young artists. Allen encouraged the students to keep pursuing their talent and pushing through with their passion. Allen's artwork hangs in the Smithsonian's National Museum of African-American History and Culture. He was commissioned to paint several pieces for the Olympic Games from 1996 to 2016.   
Nearly 30 high school students from throughout the district submitted artwork competing for the four scholarships.
Along with Allen, other judges for the 2018 Art Competition were: Genet Hopewell, DeKalb Council for the Arts; Nancy Schulz, Newton County Commissioner; Charlene Fang, President of NACA (National Association of Chinese Americans); and David Johnson, Georgia State University art student.
The Chapel Hill Middle School Symphonic Ensemble performed during the reception. Band Director Natalie Brown was recognized by Congressman Johnson for her hard work and dedication to developing the middle school artists.