Testingfg of Ads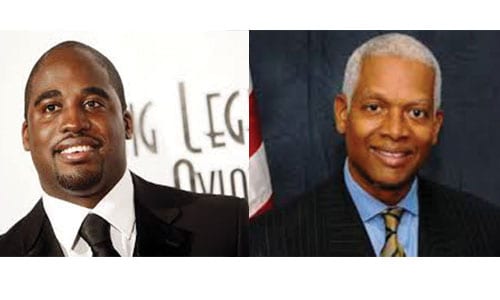 Capt. Barrington Irving, the youngest person and the first African-American pilot to fly solo around the world, is partnering with Fourth Congressional District Rep. Hank Johnson and his Full STEAM Ahead Initiative.
Johnson's initiative was created to inspire youths in the fields of Science, Technology, Engineering, Arts, and Math. Through the partnership with Capt. Irving and Mitsubishi Heavy Industries America, Johnson hopes to inspire students to explore the field of aviation and related careers.
On Tuesday, Oct. 17, Irving will present his inspirational message through the "Mitsubishi Dream & Soar: Youth in Aviation" to more than 500 students at Martin Luther King High School .
This will be followed by a tour of STEM/STEAM-focused classrooms. Mitsubishi Heavy Industries America, Inc. (MHIA) is sponsoring the initiative.
Irving is scheduled to speak 10 to 11:30 a.m. in the auditorium at MLK, which is located at 3991 Snapfinger Rd., Lithonia.
Capt. Irving will share his passion for inspiring young people to identify and pursue their dreams through aviation and Science, Technology, Engineering and Mathematics (STEM). Immediately following the presentation, Capt. Irving will conduct a Q&A session before touring the high school to visit STEM/STEAM focused classrooms
"Through my STEAM initiative, I'm working to eliminate disparities in the workforce by exposing our students to opportunities such as aviation and other STEAM-related careers," said Johnson. "Barrington is the embodiment of what someone interested and engaged in STEM fields early in life can accomplish. The skies the limit."
Capt. Irving, who was mentored by a commercial airlines pilot, is founder of the Miami-based Experience Aviation program designed to build math, science, reading and problem-solving skills in young people. He began Experience Aviation after his 97-day, history-making global flight as a 23-year-old pilot in 2007.
In 2012, he was named a National Geographic Emerging Explorer and since then, based on his many global adventures, he created a Flying Classroom science curriculum for grades 1-8 that is now used in schools throughout the country. Mr. Irving has received numerous U.S. and international awards for his role-model-for-youth initiatives.
"I believe the sponsorship by MHIA is allowing me to get my educational and motivational message out to a growing number of students and to introduce them to careers in aviation. I want to show them that pursuing a career in this exciting industry can enable them to realize their dreams – just as I did," said Irving.
This is the ninth year Mitsubishi has sponsored Barrington Irving's Mitsubishi Dream & Soar: Youth in Aviation Program. Whenever possible, the record-setting pilot flies to 'Dream & Soar' events in the Mitsubishi MU-2 turboprop, and Capt. Irving has recently purchased an MU-2 for use in his Flying Classroom endeavors.
MHIA General Manager for Aircraft Product Support Kensuke Takeuchi expressed enthusiasm for the 'Dream & Soar' program. "MHIA recognizes the benefit and need of opening up the eyes of young people to the choice of aviation as their life work. America badly needs new pilots, grounds crews, engineers, teachers, technicians, air traffic controllers and workers for literally all aviation disciplines."