Testingfg of Ads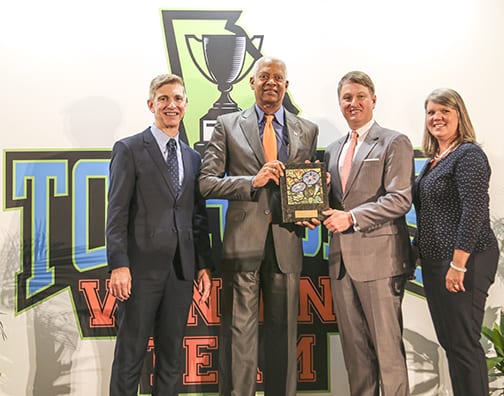 Congressman Hank Johnson (GA-04) has received the 2018 "Bill Hardman, Sr. Tourism Champion Award in Government."
Johnson received the award on Aug. 29 at the 2018 Georgia Governor's Tourism Conference, which was held at the Atlanta Marriott Marquis.
Johnson was nominated for the award by Discover DeKalb, the trademark of the DeKalb Convention & Visitors Bureau, nominated Johnson for the award. Discover DeKalb officials cited Johnson as a tremendous advocate for the Arabia Mountain National Heritage Area (NHA), saying he "understands the importance of creating a positive experience for visitors of DeKalb County."
"Discover DeKalb is proud to be a friend of Congressman Johnson and supports his recognition as a Bill Hardman Sr. Tourism Champion in Government awardee," said James Tsismanakis, CEO of Discover DeKalb. "Rep. Johnson has continued to be an advocate for Arabia Mountain NHA and the entire national heritage area program which supports our efforts to bring millions of visitors to, and, through Georgia's third-largest county."
Johnson, a member of the U.S. House Travel & Tourism Caucus,  has worked to ensure the growth of tourism in  Georgia and the United States. He was one of the original supporters of the Travel Promotion Act, which created Brand USA, the national tourism promotion office.
"I consider it an honor to be chosen for this award. DeKalb County has so many treasures and because of the film and music industry, those treasures are now being explored by celebrities, working people and families from all over the country and world," said Johnson. "That is why I will continue to be an advocate for the world's busiest airport and creating safer roads to make visits to and throughout Georgia more pleasurable ones."
The Bill Hardman Sr. Tourism Government Champion Award is given to an individual(s) or an organization that collaborates with the state of Georgia to increase visitation and tourism expenditures in their area and by showing extraordinary support of tourism through their legislative or organizational efforts.