Testingfg of Ads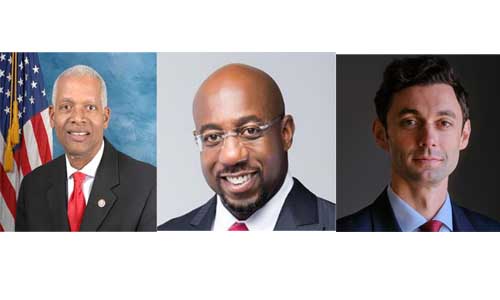 Congressman Hank Johnson, U.S. Senate candidate Raphael Warnock, Senate Democratic nominee Jon Ossoff to greet supporters
LITHONIA – Congressman Hank Johnson (GA-04) is celebrating his birthday this year by giving away gifts, not receiving them. Hundreds of presents to be sure.
On Saturday, Oct. 3, 10 a.m. to 1 p.m., Johnson (a day after his birthday) will be distributing free Biden-Harris yard signs in Lithonia.
The Fourth Congressional District Congressman also will have U.S. Senate candidate Raphael Warnock and U.S. Senate Democratic nominee Jon Ossoff on hand to greet voters and distribute their signs as well.
Determined that it is a birthday bash to remember during Covid-19, Johnson asks supporters to wear a mask and practice social distancing at the event.
"I can't think of a better way to celebrate my 39th birthday than by giving the people what they want – Biden-Harris, Warnock and Ossoff yard signs," said Johnson.
All supporters will remain in their cars. They will drive through to greet Warnock, Ossoff and Johnson and pick up yard signs.
WHO: Congressman Hank Johnson (GA-04); Rev. Raphael Warnock, candidate for the special U.S. Senate election in Georgia & Jon Ossoff, Democratic Nominee for U.S. Senate in Georgia, and Georgia voters;
WHAT: Free yard sign giveaway – Biden-Harris signs and Ossoff and Warnock signs
To Attend and receive a yard sign: https://forms.gle/rTmVfNyL3YdHHerj6 
WHEN: Saturday, Oct. 3, 10 a.m. to 1 p.m.