Testingfg of Ads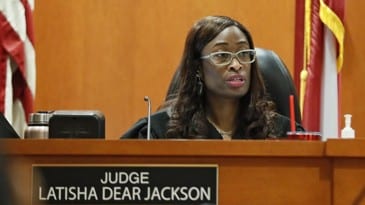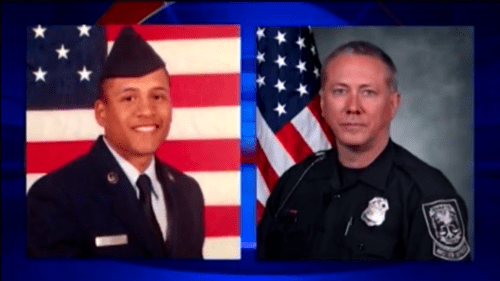 DeKalb Superior Court Judge LaTisha Dear Jackson, Air Force veteran Anthony Hill, former DeKalb County police officer Robert Olsen
By Valerie J. Morgan
Community activists are calling for the maximum 35-year sentence of former DeKalb County police officer Robert Olsen in the death of Air Force veteran Anthony Hill.
DeKalb Superior Court Judge LaTisha Dear Jackson, who presided over the high profile trial, is scheduled to sentence Olsen on Nov. 1 at 9 a.m.
Olsen was acquitted on Oct. 14 of felony murder but convicted on aggravated assault, making false statements, and violation of the oath of office. Olsen, 57, faces up to 35 years in prison on the charges and community activists are urging that the judge give him the maximum sentence.
State Rep. Shannon Renitta, a Democrat from Decatur, who held a news conference at the Georgia Capitol on Oct. 24, said Hill, who had PTSD, would have been alive today had it not been for the actions of Olsen.
"We are here to express full support for the full accountability in the sentencing of officer Robert Olsen for the death of veteran Anthony Hill," Renitta said. "…A life has been stolen from the Hill family.
Renitta said Olsen should be punished to the fullest extent of the law.
"Juries across the country are not acquitting officers because they haven't done anything wrong. They are acquitting them because the laws basically state that officers can use any level of force that they choose as long as they feel like their life is in danger and that is wrong," Renitta said.
The DeKalb NAACP is holding a prayer vigil and rally on Oct. 31, 5:30 p.m., at the DeKalb County Courthouse, 556 N. McDonough St., Decatur, ahead of the sentencing. The civil rights organization, which will be joined by other NAACP branches,Alliance for Black Lives and March For Our Liveswants justice for Hill, who was unarmed, naked and having a mental health crisis, when Olsen fatally shot him in 2015 outside a Chamblee apartment complex where Hill lived.
"On October 31, 2019, we will be praying that our judicial system delivers a sentence holding Officer Olsen accountable for his actions and one that brings justice to Anthony Hill and his family," said DeKalb NAACP President Teresa Hardy. "The 4 ½ years in which the trial was delayed were 4 ½ years that the family of Anthony was painfully denied justice. Now that the jurors have done their part, we want to ensure that the sentencing of Robert Olsen is commensurate with the seriousness of his crimes and that the pain experienced by the family of Anthony Hill is not exacerbated by the sentence Olsen may receive because he is a former police officer."
Emotions ran high as the jury, comprised of five blacks and five whites along with one Asian and one Hispanic, deliberated nearly six days. In an interview with On Common Ground News, Juror 31 said whether or not Olsen acted in self-defense in shooting Hill "became an issue" among jurors. As a black man, Juror 31 said he didn't believe that Hill posed a threat because he was naked and unarmed but he said the jury was divided.
Said Juror 31: "We could not agree on the felony murder charges. Some of them felt that (Olsen) acted in self-defense—even though (Hill) was unarmed and naked.  They said if we did not drop the murder charges, they would not convict Olsen on the other charges.  So, rather than have a mistrial, we all agreed that he was guilty of aggravated assault, making a false statement to Lyn Anderson, the second officer to arrive on the scene and violating the oath of office." .
Juror 31 said there was sufficient testimony to support the false statements and lesser charges. Officer Anderson testified that when he asked Olsen what happened, Olsen said Hill ran toward him and "started poundingon him" before he fired the fatal shots. Eyewitnesses at the scene, however, said Hill never touched Olsen and Olsen himself confirmed Hill did not touch him during interviews with GBI agents a week after the shooting. Olsen also said that no officer who arrived at the scene asked him what had just transpired.
"I personally thought (Olsen) should have been found guilty on all six counts. We convicted him on four of the six charges," Juror 31 said. "The last thing I wanted to do is look at Anthony Hill's mother and tell her that officer wasn't guilty of anything. He's looking at up to 35 years. It's up to the judge now."