Testingfg of Ads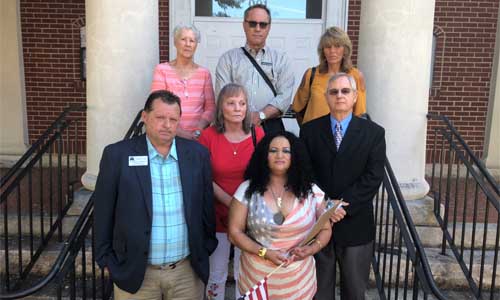 By Valerie J. Morgan
Community activist Josie Dean said during a June 26 news conference that Rockdale County Sheriff's officials are trying to silence her from speaking out about the two people who died while they were in custody of the Rockdale jail.
Dean said she concurs with Attorney Mawuli Davis, who is representing the families of the deceased, that the jail deaths are the result of negligence. She said the sheriff's office is harassing her in a threatening manner over her public statements. 
The Georgia Bureau of Investigations determined that Shali Tilson, 22, died of severe dehydration on March 12 after being locked up nine days on misdemeanor charges. Jamie Henry, a 40-year-old mother, had been in jail for about 12 hours when she died on May 26. The Sheriff's Office is still investigating her death and has not provided the cause of her death. Henry's mother, Renai Donaldson, who stood with Dean during t news conference, said she didn't understand why the Sheriff's Office was investigating the death, instead of the GBI.he   
Dean said she plans to continue standing with Donaldson and Tilson's family. She said Deputy Chief Dale Holmes, who is second in command at the Sheriff's Office contacted her last week and warned her that she needed to be careful.
"I was told by Deputy Chief Dale Holmes that I need to be careful who I stood next to," said Dean.
Dean said Holmes made the call days after she received a call from the sheriff, whom she said  expressed his concern about her involvement with the cases.
 "…We're here today because we're not going to be ran off and told who to talk to and who not to talk to and not to go against the Sheriff," said Dean. "We're not going to shut up and he's not going to harass us and tell us what to do and how to do… That's why we are coming out here today."
Sheriff Eric Levett said he never threatened Dean. He said he called to let her know that the case was still under investigation.
Holmes, who walked in while Levett was doing a telephone interview with On Common Ground News, said he also never threatened Dean. He said he called her to find out how he might be of assistance to her.  
 Holmes said after greeting Dean, he said:
 "I hear you (Dean) keep asking to speak with the sheriff. I hear people are looking for him… I just wanted to know from her was there anything I can get for her in reference to the sheriff."
Holmes went on to say that he has known Dean for a long time. She was living in DeKalb County and at the time, he was working with Sheriff-elect Derwin Brown, who was assassinated on Dec. 15, 2000 on the orders of his defeated rival Sydney Dorsey, now 78 years old and serving life in prison.   
 "I know her (Josie) from way back. She don't have a violent bone in her body. You can print that. That's my thought. But I told her she has to watch these people who are latching on to her because if she don't know them, she don't know what they will do.  Is that clear? That's about as bare as I can put it.
There's no threats that's been made against Ms. Dean. There never will be. I don't threaten people. That's not my job. My job is to protect. And I want you to print that also," Holmes said.   
 Larry Cox, who stood with Dean at the news conference, said he was disturbed to hear about  Holmes' call. He said Dean contacted him to tell him what happened and it appeared that Holmes was trying to "squeeze her into backing off because they felt that Josie was an influential person in our community."  
"…Josie is an influential person in our community. Josie started and founded the MLK Day Parade here in Rockdale County…Josie has fought for the rights of citizens for years.
"…For our sheriff's department and a ranking official as the chief deputy to want her to be silent and then tell her to be careful about who she stands beside, that's not the kind of language that we want from one of our chief law enforcement officers in this county. They should be proud of any citizen who stands for the rights of other people," Cox said. I'm concerned about the direction that our sheriff's department is going and our county government."
After the press conference, Dean also spoke about the calls during public comments at the June 26 Board of Commissioners meeting.