Testingfg of Ads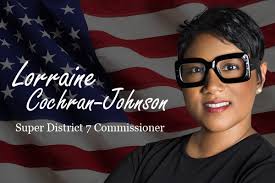 DeKalb County Commissioner Lorraine Cochran-Johnson is partnering with the Fulton-DeKalb Hospital Authority (FDHA) to host the 2019 Lock-in for Life, a program designed to promote healthy relationships among middle and high school teen males.
The six-hour event will be held Friday, Dec. 6, 6 p.m. to midnight, at Berean Christian Church, 2201 Young Road, Stone Mountain.
The program was designed after taking a critical look at the needs of male students within DeKalb schools and the unique challenges they face. The program seeks to fill the gap that a modern education may not be equipped to bridge.
"The Lock-in for Life has a core focus of youth empowerment, a process in which children and young people are encouraged to take charge of their lives," Commissioner Cochran-Johnson said. "Youth can do this by addressing their situation, taking action to improve their access to resources, and transforming their consciousness through their beliefs, values, and attitudes."
In addition to promoting the mentorship of DeKalb's male youths, the event also will address bonding, social preparedness, soft skills, critical life skills and conflict resolution. Featuring an all-star cast of some of DeKalb's most distinguished male professionals, civic leaders, attorneys and community members, attendees will participate in candid discussions on topics critical to their development as young men.
"Modern education can no longer address the needs of our male students," said Ennis Harvey, principal of Dr. Martin Luther King Jr. High School. "Increasingly, our teen males need wrap-around services, mentors and a support system to cope with peer pressure and their environments."
Topics of discussion include "Ignorance Is No Defense," "Understanding the Consequences of Decisions," and "Am I My Brother's Keeper?" During each panel discussion program participants will hear from distinguished panel members including nationally acclaimed poet and civic activist Hank Stewart; attorney Mawuli Mel Davis; DeKalb Board of Education member Diijon DaCosta; criminal attorney Dwight Thomas; retired DeKalb County Police Major K.D. Johnson; author Omar Howard; Judge Anthony Scott; Pastor Kerwin Lee; and attorney Derrick Bo"The Fulton-DeKalb Hospital Authority is committed to supporting programs that enhance the lives of our youth," said Beverly Burks, FDHA director of community engagement."Building positive, healthy relations is a critical aspect of teen development for males. Half of male adolescents with depressive disorders in the United States never receive mental health treatment for their symptoms and lack of mental health treatment is especially true for young, Black males ages 12–29. It's time we ensure our children have a safe space to voice their concerns, seek assistance, moral support and see productive male figures so they know they are not alone."
Additionally, Kappa Alpha Alpha Chapter of Omega Psi Phi Fraternity Inc. will be on hand as event promoters and will engage in a "Young vs. Old" basketball game during the evening. The event will culminate with a discussion on social and emotional preparedness led by Riverwood Behavioral Health.
Transportation is available for program participants and parents are encouraged to register their children by visiting www.LockInForLife.com.