Testingfg of Ads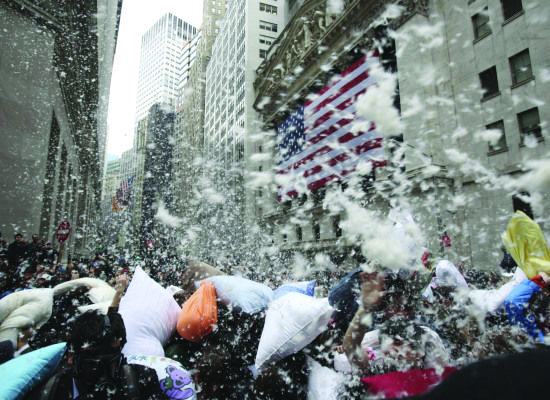 FEATURED EVENT: ATLANTA
Pillow fight in the park
A free community pillow fight will take place on Saturday, April 1, 3 p.m. to 6 p.m. at Grant Park, 840 Cherokee Ave. SE.
Bring your best friend or worst enemy to join the rest of the world in International Pillow Fight Day. This is a free event for adults and kids, but donations are appreciated. Participants are asked to bring soft pillows without feathers and to avoid being too aggressive as this is a family friendly event. The event will take place on the corner of Cherokee Ave. SE and Sydney St. SE. For a full list of safety rules or more information, visit www.skysthelimitclub.com.
ATLANTA
Inman Park Restaurant Week
Get a special deal on a three-course fixed-price meal at a dozen restaurants during Inman Park Restaurant Week, March 27 through April 2, in the historic Inman Park neighborhood, located two miles east of downtown Atlanta. For a list of participating restaurants, visit http://www.inmanparkrestaurantweek.com.
DEKALB
Read to Rover reading program returns
Children ages 5 to 10 years old can practice their reading skills with Rover on Saturday, April 1, 2 p.m. to 3 p.m., at the Stonecrest Library, 3123 Klondike Road, Lithonia.
Kids will get an opportunity to read to a therapy dog. This event is free and open to the first 20 participants. For more information, call 770-482-3828.
Spring break movie matinee
Spring breakers are welcome to attend a free movie on Monday, April 3, 2 to 4 p.m. at the Salem-Panola Library, 5137 Salem Road, Lithonia.
The featured movie is Zootopia (PG) in which a rookie bunny cop and a cynical con artist fox must work together to uncover a conspiracy. Screening time is 108 minutes. Guests may bring their own snacks. This event is open to the first 48 participants. For more information, call 770-987-6900.
GWINNETT
Spring fashion show and tea for seniors set
Chico's retail store will present a ladies apparel fashion show on Friday, March 31, f 1 p.m. to 2:30 p.m., at the Bethesda Park Senior Center, 225 Bethesda Church Road, Lawrenceville.
Ladies are invited to view the latest spring fashion trends and enjoy finger sandwiches, tea and tasty sweets. The cost is $6 per person and guests must pre-register online at gwinnettcounty.com or call 678-277-0179.
Prom set for Gwinnett homeschool students
Students are invited to attend the "Moonlit Garden Dreams" homeschool prom edition on Friday, March 31, 6:30 to 10 p.m., at the Gwinnett Historic Courthouse, 186 West Crogan Street, Lawrenceville.
The event will include hors d'oeuvres, a keepsake memento, a photo booth, and music and dancing in the courthouse ballroom. Participants are encouraged to sign up for the selection of Prom King or Queen. Seating is limited. For ticket information, call 770-822-5450.
ROCKDALE | COVINGTON
Charity run set to benefit homeless families in Conyers and Covington
The first annual run to benefit Family Promise of New Rock and homeless families in Conyers and Covington will be held on Saturday, April 1, 8 am. To 10 a.m. at the Rockdale County Government Complex, 1400 Parker Road, Conyers. Race registration begins at 7 a.m. Participants can register at active.com or call 770-262-7816.
Community bike ride set
Grab your bicycle and take a ride on Sunday, April 2, at 3 p.m. Riders will meet in downtown Covington on the Square. The ride begins and ends at the Square. The first loop is a gentle, family-friendly 4.5-mile ride around historic downtown Covington.
For a little more fun, take a ride on the scenic Eastside Trail.
This event is co-hosted by the Newton Trails, Main Street Covington and the Covington/Newton County Visitors Center and occurs every first Sunday of the month. For more information, visit www.newtontrails.org.