Testingfg of Ads
Brookhaven Cherry Blossom Festival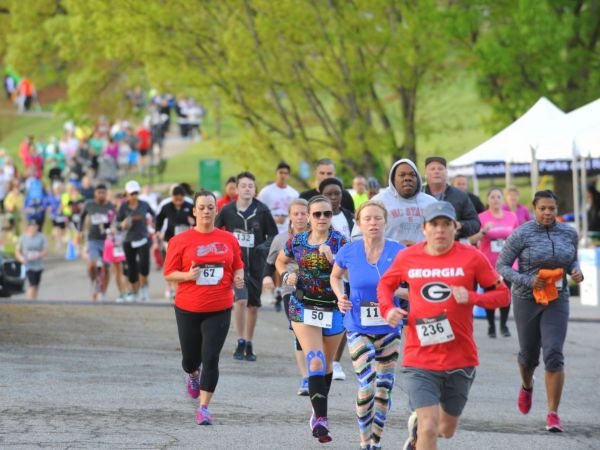 The third annual Brookhaven Cherry Blossom Festival will be held on March 25-26h 26, 10 a.m. to 6 p.m., at Blackburn Park, 3493 Ashford Dunwoody Road NE, Brookhaven.
Families, including four legged friends, are invited out for an afternoon of fun in the sun, food and live music. The two-day festival will include a pet costume contest and pet parade, interactive children's village, a classic car show, 5K Race and 1K walk, artisan's marketplace, food trucks. For more information, visit brookcherryfest.org.
ATLANTA
Local author presents civil rights lecture with rarely seen photos
The Auburn Avenue Research Library, in collaboration with Arcadia Publishing and Preserve Black Atlanta, will host author and historian Dr. Karcheik Sims-Alvarado on Thursday, March 23, 7 p.m. at the Auburn Avenue Research Library, 101 Auburn Ave NE, Atlanta.
Sims-Alvarado will discuss her latest book, Atlanta and the Civil Rights Movement: 1944-1968. The book gives a visual account of the Modern Civil Rights Movement in Atlanta and depicts the courageous men and women who made it possible.
Sims-Alvarado is the founder and CEO of Preserve Black Atlanta, Inc. and has served as a historian and consultant with the Herndon Home Museum, Georgia State University and the National Center for Civil and Human Rights.
This event is free and open to the public. For more information, visit www.afpls.org.
DEKALB
Walking food tours offer glimpse of international food scene
Get ready for an enticing feast on foot on Saturday, March 25, 11 a.m., in downtown Decatur. Prepare to enjoy foods from some of downtown Decatur's finest restaurants while learning about the diverse culture and history of the city.
Along the tour, a Cultural Culinary Connector will take your senses on a stroll to five local restaurants where you will sample a variety of cuisines including authentic Korean, Italian and Latin along with some traditional American fare. Guests will also get to visit an artisan olive and vinegar tasting room to learn the varied usage for oil and vinegar.
For more information or to book a tour, visit downtowndecaturfoodtours.com.
GWINNETT
UGA extension offers "jam" packed science workshops for kids
Join the UGA Extension on Friday, March 24, 4 to 7 p.m. for a hands-on canning workshop at the Gwinnett County Annex Building, 750 South Perry Street, Suite 200, Lawrenceville.
Children and their parents will learn how easy preserving food is in this hands-on canning workshop. Participants will learn the science behind food safety and food preservation while preparing their own jam that they can take home. Admission for this workshop is $10 and is open to children 5 to 12 years of age. Register for this event in advance and then pay when you get there.
To register, email inesb@uga.edu or call us at 678-377-4010. For more information, visit www.atlantasciencefestical.com.
Gwinnett County to host local artisans market
The public is invited to purchase unique pieces of art from local crafters on Saturday, March 25, 9 a.m. to 4 p.m., at the Rhodes Jordan Park Community Recreation Center, 100 East Crogan Street, Lawrenceville.
Various types of art will be on sale including handmade craft pieces, photographs, paintings and more. Admission is free of charge. Vendor spaces are $21 and include 1 table and 2 chairs. Spaces are limited. To register, call 678-277-0890.
ROCKDALE
36th Annual Conyers Cherry Blossom Festival
The City of Conyers willpresent the 36th annual Conyers Cherry Blossom Festival on March 25 –26, 10 a.m. to 5 p.m., at the Georgia International Horse Park, 1996 Centennial Olympic Parkway, Conyers.
The festival was created to encourage cultural understanding and friendship through international music, dance, games, food and crafts. The festival offers multiple stages for continuous entertainment, hundreds of art and craft booths, food vendors, children's activities and civic and nonprofit organizations.
There is a $5 charge for one-day parking or $8 to attend both days. Admission is free and there are no pets allowed.
For more information, visit www.conyerscherryblossomfest.com.
Conyers production team brings Jack and the Beanstalk to life
Families are invited to experience the childhood classic, Jack and the Beanstalk, on March 28, 10 a.m. to 11:30 a.m., at the Rockdale Auditorium, 901 Main Street, Conyers. The David Stephens brings to life the popular children's story with a twist. The audience will get a different look at the tale of Jack and his encounters with magic beans, a beanstalk, a giant, and some other fairy tale favorites during the play.
Student tickets are $4. Adults are free. Contact Rick Caruso at the Conyers Rockdale Council for the Arts for ticket reservations at 770-922-3143 or at rcaruso@conyersarts.org.