Testingfg of Ads
Atlanta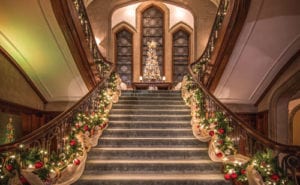 Designer show house lights up the holidays at Callanwolde Arts Center
Tour the historic Candler estate for the annual Christmas at Callanwolde Designer Show House featuring some of Atlanta's hottest interior designers daily through Dec. 13, 11 a.m. to 6 p.m.
Visitors are invited to enjoy a self-guided tour of the 27,000-square-foot Tudor revival mansion bedazzled by some of Atlanta's most prominent designers. Tours last approximately 45 to 60 minutes. Guests will also be able to experience an Aeolian pipe organ at select times and holiday shopping at the Callanwolde artist market. Snacks and beverages will be available for purchase from the Callanwolde Café.
There is also a separate outdoor Christmas light show that runs through Dec. 29 for an additional cost. Discount tickets are available at www.groupon.com. For more information, visit callanwolde.org,
Centennial Olympic Park hosts Chinese Lantern Festival
Centennial Olympic Park will transform its South Park lawn for the Chinese Lantern Festival Dec. 9 through Jan. 15 daily from 6 p.m. to 10 p.m., 265 Park Ave. N.W., Atlanta.
The South Park area including the Southern Company Amphitheater will be decorated with 25 handcrafted lanterns, a three-story pagoda, and a 200-foot-long Chinese dragon.
The festival hosts nightly entertainment featuring acrobatics, dancers, theatre, and craftsmen creating everything from edible sugar dragons to Chinese paintings. In addition to the radiant displays, the Centennial Park District offers an Ice Rink presented by Coca-Cola., Holiday in Lights display and the Skyview Ferris Wheel.
For more information or to purchase tickets for the festival, visit www.gwcca.org/Chinese-Lantern-Festival.
DeKalb
Healthy foods tour set at Your DeKalb Farmer's Market
Meet up with the Electric Girls at DeKalb Farmers Market for a healthy living and food tour of the Your DeKalb Farmer's Market on Sunday, Dec. 4, 2 to 4 p.m., 3000 E. Ponce de Leon Ave/, Decatur.
Guests will learn money-saving tips and hopping cart management tips. The group will also discuss "electric" foods and how to fill your fridge with the best choices for optimal health. "Electric foods" are foods that support good health, heal and prevent disease.
Tickets are $15 and participants will receive a printout with shopping and cooking tips along with some delicious recipes. Event organizers suggest wearing comfortable walking shoes and bringing a jacket. For more information, visit www.chroniclesofanelectricgirl.com or call 678-612-3882.
Still Waters Youth SinfoNia Orchestra of Metropolitan Atlanta
Join the youths from the Still Waters Youth SinfoNia Orchestra of Metropolitan Atlanta for an evening of music and dance Saturday, Dec. 10, 4 to 5 p.m. at the Decatur Library, 215 Sycamore Street, Decatur.
Named in honor of William Grant Still, considered dean of African-American composers, the Still Waters Youth SinfoNia of Metropolitan Atlanta celebrates more than 25 years of instructing thousands of young, talented students in instrumental music and dance.  Under the artistic direction of David E. Robinson, III, a music teacher in the DeKalb County School District, SinfoNia performs music ranging from classical to rock 'n roll.
Most of the music are works by under-represented black composers and are arranged by Robinson himself.  SinfoNia has performed locally, nationally and internationally and has recorded with the Grammy Award-winning Yasmeen Williams, an original member of Sweet Honey in the Rock, among others.
Funding for the library program is provided by The Friends of the Decatur Library. For more information, call 404-370-3070.
Gwinnett
Community center offers pre-holiday fun for kids
Bring the entire family to enjoy a fun-filled, festive morning movie and pancakes on Saturday, Dec. 10, 9 a.m. to noon, at the Rhodes Jordan Park Community Recreation Center, 100 E Crogan Street, Lawrenceville.
Delight in a pancake breakfast, hot chocolate bar, crafts and The Polar Express movie on the big screen. Kids can bring pillows and blankets,if desired. Space is limited. The program is open to children ages 3 and up. The cost is $6 person. Pre-registration required by by Dec. 5. 678-277-0890
Swim with Santa
 Kids are invited to join Santa for a fun holiday swim Saturday, Dec. 17, 11 a.m., at Bethesda Park Aquatic Center, 225 Bethesda Church Road, Lawrenceville.
Before the holiday rush, take a dip with Santa and have your picture taken with him in the pool. Enjoy holiday crafts and games, making a wish list for Santa and enjoy light refreshments.
Children 7-10 must be accompanied by an adult 18 or older and the adult must be in the water with children ages 6 and under. All pool rules apply. The cost is $12 per child (includes one free adult admission. Please pre-register by Dec. 9: 678-277-0880.
Rockdale/Covington
Skate with Santa
Bring the family for a night out of skating with Santa on Wednesday, Dec. 7, 6 to 8 p.m., at the pavilion in Olde Town Conyers, 949 S. Main Street, NE. The event is being hosted by Ice Days Ice Skating Rinks.
Bring your camera to take a picture with Santa. Admission is $12 per skater and supports victims of domestic violence. Purchase tickets in advance at www.icedayconyers.com.
Olde Town transforms into Winter Wonderland
The Winter Wonderland Winterfest, parade, and tree lighting is set for Saturday, Dec. 3, 11 a.m. to 9 p.m., in the streets of Olde Town Conyers.
The festival includes a Secret Santa workshop, vendors, stilt walkers, balloon artists, face painting, bounce houses, a snow machine, ice skating, games and live music. The shops of Olde Towne will remain open late for extended shopping hours.
The parade begins at 4 p.m. at Rockdale County High School and ends at the Rockdale County Courthouse. The tree lighting ceremony will be held inside the Rockdale Auditorium immediately after.
For more information, go to visitconyets.com.