Testingfg of Ads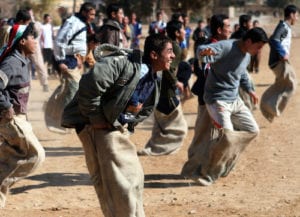 Atlanta
Field Day for adults: relay races, scavenger hunts and other wacky fun
The Atlanta Sport and Social Club and Creative Loafing will team up to present Atlanta Field Day on Saturday, July 16, 12 – 5:30 p.m., at the Historic Fourth Ward Park in Atlanta. Bring your team of up to eight people for a day of fun in the sun and a chance to compete for the King of the Field title. Leave the kids at home – this field day is for grownups. This year's event will feature Field Day classics such as tug of war, a relay race, obstacle courses as well as a variety of new games created by the Field Day team including Grass Twister, Backyard Wheelbarrow Race, Photo Booth Scavenger Hunt, Giant Paper Airplane Toss, and even eating contests. There will be food trucks and a cash bar on site. Parking is extremely limited. Event organizers recommend carpooling or ridesharing via Lyft or Uber. Sunscreen, sneakers (no cleats allowed), shorts and T-shirts/tanks are recommended. Also, please be prepared to get a little wet. Team costumes are strongly encouraged and will have a chance to win. For more information, visit tickets.atlfieldday.com.
Westside Arts District to present Art Walk
The Westside Arts District will be hosting an art walk on Saturday, July 16, noon to 5 p.m.
Enjoy a talk and tour of six dynamic art spaces including the Atlanta Contemporary Art Center, Emily Amy Gallery, Get This! Gallery, Octane Coffee Bar & Lounge, (Poem 88) and the Sandler Hudson Gallery,
The Westside Arts District hosts the Art Walks every third Saturday of the month to promote the arts and inspire the public. The Westside Arts District is an alliance of commercial galleries and non-profit art spaces located in Westside Atlanta. For more information, visit http://wadatlanta.wordpress.com.
DEKALB
Arabia Mountain to host "Movie in the Park"

Bring your family to enjoy a free movie in the park at the Davidson Arabia Mountain Nature Preserve, Saturday, July 9, 8:30 to 10 p.m.,, in the back of the nature preserve, 3787 Klondike Road, Lithonia. The featured movie is "Zootopia" (PG). The event is open to the public and is first come, first served. Popcorn will be served and guests are welcomed to bring lawn chairs and blankets.
Stonecrest Library "Scribes and Vibes" brings bestselling author , spoken word
Join best-selling author Tia McCollors for a free writer's workshop on Saturday, July 9, 1 – 4 p.m., at the Stonecrest Library, 3123 Klondike Road, Lithonia.
McCollors will present a writer's workshop and provide readings from her contemporary fiction titles from 1 to 2 p.m. After the workshop, enjoy an intimate reading and purchase autographed books to support the Friends of the Stonecrest Library.
The program, hosted by Blu and El Uno, will feature spoken word by Aerielle Tuggers with open mic performances by various poets and musicians from 2 – 4 p.m.For more information, call 770-482-3828.
"Get Fit & Be Healthy" family fitness expo at South DeKalb
The Gallery at South DeKalb is hosting a family fitness event Saturday, July 9, 12 – 4 p.m., 2801 Candler Road, Decatur.
Presented by V-103's Patty Richards, the "Get Fit & Be Healthy" free event will feature fitness activities for the whole family and food courtesy of the Georgia Department of Health WIC program while supplies last. Guests will be able to participate in circuit training, Zumba and fun fitness activities for the kids courtesy of The Atlanta Dream.
GWINNETT
Bethesda Park Senior Center to host movie matinee
Bring a friend and enjoy a bargain movie with popcorn and drink included. Admission for Gwinnett County residents is $2 per person. To attend, you must pre-register. Call 678-277-0179 for movie selections and reservations.
Movies Under the Stars at the Mall of Georgia
Grab your lawn chairs and blankets and enjoy a free concert and movie on Saturday, July 9, 6:30 p.m., at the Mall of Georgia, 3333 Buford Drive NE, Buford. The event will begin with a live band performance, bounce houses for the kids, and food and drink vendors. The movie will begin at dusk in the Village Amphitheater.  This weekend's entertainment lineup includes Ants Trippin' and a showing of the movie Grease, 1978 Original (PG).
Run through the park
Enjoy a scenic run on Sunday, July 10, 7 a.m. at Lenora Park, 4515 Lenora Church Road, Snellville. The entire course will be run on a wide paved path in a beautiful scenic park. Participants have the option to run a half marathon, 10K or 5K. There will be an aid station at the start and finish area at the pavilion. All runners will get a shirt and a medal.