Testingfg of Ads
Featured Event
Fresh On DeK Mobile Market brings fresh produce to the community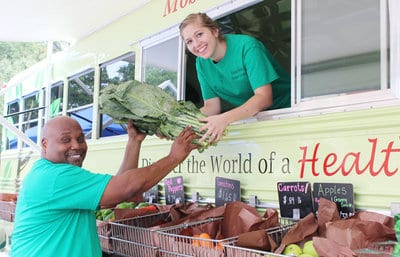 The DeKalb Mobile Farmers Market will be held on Thursday, June 29, 12 – 2 p.m. at the Redan-Trotti Library, 1569 Wellborn Road, Lithonia.
The mobile market provides access to healthy, affordable food for communities where access to fresh regionally-grown fruits and vegetables is limited. The Mobile Market accepts EBT (SNAP benefits), credit cards, checks and cash. The DeKalb Mobile Farmers Market is a program of DeKalb County Extension Services. For more information, call 770-482-3821.
ATLANTA
Grab a bite to eat at Food Truck Friday
 Enjoy a lunchtime stroll on Friday, June 30 at Five Points MARTA Station for Food Truck Fridays on Broad Street Plaza, 12 Broad St. NW. Food Truck Friday will feature street food from several area vendors from 11 a.m. to 2 p.m.
For more information, visit www.atlantadowntown.com.
Children's Museum offers series for autistic children
Families with autistic children are invited to attend a special event on Saturday, July 1, 9 a.m., at Children's Museum of Atlanta, 275 Centennial Olympic Park Drive NW, Atlanta.
Sensory-friendly Saturdays offers a sensory modified setting to accommodate families with children on the autism spectrum or children with sensory processing disorders. Accommodations include limited admission and sound and lighting adjustments.
Admission is $5 per person for non-members and free for members. For reservations, call 404-527-3693 or purchase your ticket online at www.childrensmuseumatlanta.org.
DEKALB
Clarkston Library presents Taste of East Africa
Join the Clarkston Library for a cultural immersion program entitled "One City, Many Stories: East Africa" on Saturday, July 1, 11 a.m. – 1 p.m., at Clarkston Library, 951 N. Indian Creek Drive, Clarkston.
Learn about and celebrate the diverse culture and food of East Africa, which includes the countries of Ethiopia, Eritrea, Somalia, Uganda, and Kenya. The program also will include a special ceremony to celebrate the end of Ramadan.
This event is open to the first 60 participants. For more information, call 404-508-7175.
GWINNETT
Castles and catapults workshop set
Gwinnett County Library invites children and their caregivers to learn about the history of castles on Tuesday, June 27, 1 p.m., at the Snellville Library branch, 2740 Lenora Church Road Snellville.
Kids will get a chance to design and construct their own castle and will also get to see if it can withstand an attack from a handmade catapult. The program is open to children ages 6-10. Due to space limitations, large groups such as day camps and schools cannot be accommodated. For more information, call 770-978-5154.
Gwinnett County Parks and Recreation to host shark attack beach party
Kick off the summer with a Shark Attack beach party on Tuesday, June 27, 6:30 – 9 p.m., at Mountain Park Aquatic Center, 1063 Rockbridge Road, Stone Mountain.
It'll be a night filled with entertainment, fun games, shark fin races, crafts and some shark bait snacks. All ages are welcome. The cost is $6 per person for county residents.
For more information, call 678-277-0870 or register online at gwinnettparks.com.
ROCKDALE
Conyers sets "Celebrate Community" parade
 Join the city of Conyers for an Independence Day parade on Saturday, July 1, 10 a.m. – 11 a.m., in the parking lot of Conyers First United Methodist Church, 921 North Main Street NW, Conyers.
The parade route will travel a little more than a half-mile in the residential section of historic Olde Town Conyers. Neighbors are encouraged to watch the parade or participate by decorating wagons, strollers, golf carts, pets and more. The parade salutes the Conyers community as well as the birth of the nation. This event is free and open to the public.
For more information, contact Olde Town Events Coordinator Sandy Fowler at 770-929-4239 or sandy.fowler@conyersga.com.
July 4th fireworks hike set
Join a ranger for an evening hike to the top of Panola Mountain on Sunday, July 2, 8 p.m. – 10:30 p.m., at Panola Mountain State Park, 2620 Highway 155 SW, Stockbridge.
As the sun sets, enjoy panoramic views of Stone Mountain and Atlanta's Independence Day celebrations from a distance. After the trek back down the mountain, hikers will be greeted with a campfire and s'mores.
Admission is $20 plus $5 parking. Call 770-389-7801 for more information.