Testingfg of Ads
FEATURED EVENT
Decatur "Concerts on the Square" returns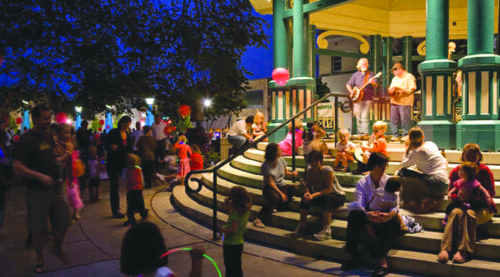 Pack a picnic, spread out a blanket and enjoy an evening of music on Saturday, May 6, 7 – 9 p.m., on the on the square in downtown Decatur.
The free show will feature Modern Top 40 group, "Banded," an upbeat trio from Athens playing popular songs from the 90's up to now.
For more information about this event and other concerts in Decatur, visit www.decaturdba.com.
ATLANTA
Candler Park outdoor movie series starts May 6
Families are invited to enjoy a free outdoor movie on Saturday, May 6, at Candler Park, 1500 McLendon Ave. NE, Atlanta.
The movie is entitled "Fantastic Beasts and Where to Find Them," rated PG-13 with a running time of 2 hours 13 minutes. Festivities and music start one hour before dusk in front of the pool house. Guests may bring their own picnic, blankets and/or chairs. Glass is not permitted.
For more information, visit http://www.friendsofcandlerpark.org.
Chastain Park to host Sixth annual Arts Festival
The Chastain Park Arts Festival will host its sixth annual event May 6-7, 10 a.m. to 5 p.m., at Chastain Park along Park drive, 4001 Powers Ferry Road, Atlanta. Nearly 200 artists and artisans are expected to show off and sell their work.
Visitors will enjoy fine art and crafts, a children's area, gourmet food trucks and local acoustic musicians. This event is free and open to the public and organized by the Atlanta Foundation for Public Spaces and volunteer artists. For more information, visit www.chastainparkartsfestival.com.
DEKALB
Senior talent show set to celebrate Older Americans Month
The 7th Annual Senior Celebration will be held on Thursday, May 18, 10:30 a.m. to 2 p.m., at the Porter Sanford III Performing Arts and Community Center, 3181 Rainbow Drive, Decatur.
If you sing, dance, play an instrument, recite poetry/spoken word or have a specialty act that you want to showcase in the senior talent show, register at your nearest public library location or email adultservices@dekalblibrary.org to receive an electronic entry form. Prizes will be awarded to the winners. You must be 55 years of age or older to participate.
Attendees are invited to come dressed as their favorite celebrity. For more information or to register, call 404-508-7190, ext. 2257. Registration and your library card are your entry ticket. Free light lunch will be provided. Funding provided by the DeKalb Library Foundation, Office of Senior Affairs and Lou Walker Senior Center.
GWINNETT
Snellville Days boasts big entertainment, over 200 vendors
The public is invited to attend the Snellville Days Arts and Crafts festival on Saturday, May 6 to Sunday, May 7 at Briscoe Park, 2500 Sawyer Parkway, Snellville.
Snellville Days features over 200 arts and crafts, food and vendor booths, as well as live entertainment including a bike stunt show, comedy circus, canine show, kiddie area and more. The event runs Saturday, 10 a.m. to 6 p.m., and Sunday, noon to 5 p.m.
Admission is free and open to the public. For more information, visit www.snellvilledays.org.
Gwinnett Beer Festival to feature over 150 craft beers
The third annual Gwinnett Beer Fest will take place on Saturday, May 6, at Coolray Field, 2500 Buford Drive NE, Lawrenceville.
The festival will take place from 1 to 5 p.m. with a VIP tasting starting at noon. The festival will feature an unlimited sampling of over 150 craft beers, live music and food. For tickets and more information, call 678-482-2270 or visit www.gwinnettbeerfest.com.
ROCKDALE
 Downtown to welcome Taste of Conyers, car show
Join your neighbors for a Taste of Conyers on Saturday, May 6, 11 a.m. – 4 p.m., in Olde Town Conyers.
Sample entrees, drinks and desserts from area restaurants. Samples range from $1-$3. Kids can enjoy the new children's area while car lovers marvel at the variety of cars at the Conyers Car Show with live music on Railroad Street. Admission and parking are free. For more information, call 770-602-2606.
March of Dimes sets fundraiser in Conyers
You can help improve the health of premature babies by participating in the March of Dimes march. The fundraiser will be held on Saturday, May 6, 8 a.m. – 12 p.m., at the Steeplechase at the Georgia International Horse Park, 1996 Centennial Olympic Parkway, Conyers.
There will be family teams, company teams and people walking with friends to raise money for the March of Dimes. For more information, visit www.marchforbabies.org.