Testingfg of Ads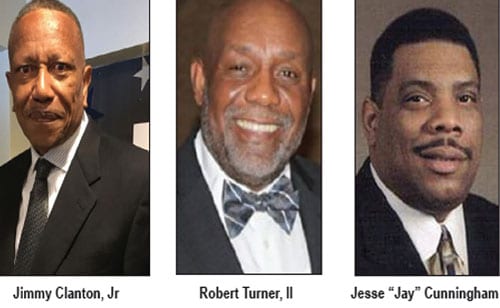 Three more candidates have announced plans to run for the Stonecrest City Council ahead of the qualifying period, which will be held Jan. 9-11. All candidates seeking to run for mayor or City Council must pay the required fees during the three-day time period. The fee is $600 for those running for mayor and $450 for those seeking city council seats.
Jimmy Clanton, Jr. said he plans to run for the District 1 City Council seat. A community activist and organizer for the past five years in the Stonecrest Overlay area, Clanton is serving his second term as president of the Parks of Stonecrest Community Civic Association (PSCCA). Under his directions the association has hosted political forums, adopted and cleaned area roads of trash and been involved with the Stonecrest Business Alliance and the Stonecrest City Alliance.
Clanton was appointed by District 5 Commissioner Mereda Davis Johnson to the DeKalb Citizen Website Advisory Committee to help produce a friendly, fast, and easy-to-navigate web presence for DeKalb residents and other web site users.
Clanton is employed with the Georgia Department of Public Health (DPH), where he is the Digital Properties Manager in the Division of Communications, as well as the website developer and site manager for the Georgia Public Health website and the Governor's Georgia Shape website. He is also the distribution and publishing manager for Public Health's PHInsider E-Newsletter.
Clanton has lived in Lithonia since1986 with his wife, Edwina. All three of his adult children (Crystal, Jimmy, Jr. and Alicia) graduated from DeKalb County Schools.
Robert Turner, II has announced his candidacy for the District 2 seat.
Turner, who has lived in DeKalb County for over 25 years, is the program operations manager for the Georgia Department of Labor's Distance Learning Center. He and his wife, Vicki Turner, a member of the DeKalb County School Board, founded Augustine Preparatory Academy of Atlanta, a private, Christian school in Decatur. Rob Turner assisted with strategic planning, including budget, policies and procedures and staff development at the former academy.
Turner holds a Bachelor's of Art Degree in Mass Communications from Florida State University and a Master's of Art Degree in Radio, Television and Film from Bowling Green State University.
Turner said he feels he is running for the Stonecrest City Council because he wants to enhance business opportunities and help build the economy.
Jesse "Jay" Cunningham said he plans to run for the Stonecrest City Council District 4 seat because he believes he will be an asset to the council. Cunningham, who is the District 11 director for the Georgia PTA, said he is a consensus builder who has worked with locally-elected officials as well as state lawmakers. He said his business background in operating and managing restaurants, including his own, as well as previously serving as an elected official, has prepared him to understand operating budgets, agendas and planning. He was first elected to the District 5 seat of the DeKalb County School Board in 2006, and he was re-elected to the position on Nov. 2, 2010.