Testingfg of Ads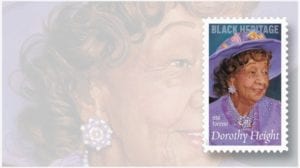 The U.S. Postal Service has announced the 2017 Forever Stamps will honor civil rights icon Dorothy Irene Height.
Height, the fourth national president and national chair of the National Council of Negro Women (NCNW), is on the 40th stamp in the Black Heritage series for the new year. The stamp features artist Thomas Blackshear II's gouache and acrylics on board portrait of Height. The painting is based on a 2009 photograph shot by Lateef Mangum. Art director Derry Noyes designed the stamp.
"2017 will be an exciting year for the Postal Service's stamp program," said Mary-Anne Penner, U.S. Postal Service Director, Stamp Services.
"This amazing collection of stamps features beautiful art, distinguished Americans and historic events."
Height(1912-2010) was one of the most influential leaders of the 20th century who dedicated her life to fighting for civil rights and gender equality. She served at the helm of NCNW for more than 50 years.
"We are delighted that she will be honored in this way. This is a proud moment in NCNW history and a lasting tribute to Dr. Dorothy I. Height. She will never be forgotten," NCNW President Ingrid Saunders-Jones, national NCNW chair said in a news release.