Testingfg of Ads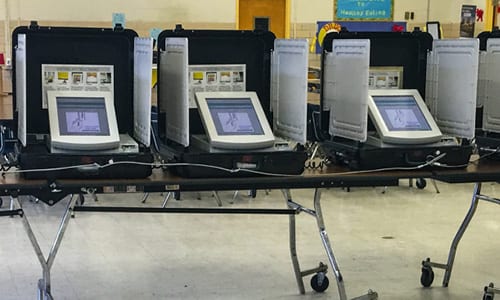 As Secretary of State Brian Kemp announced that Georgia has shattered its all-time voter registration record with more than 6,915,000 voters on the rolls, several civil rights groups have united to demand his resignation. 
The groups say Kemp's office reportedly purged more half a million legitimate voters from the rolls over a two-year period. They have joined investigative journalist Greg Palast, who said he discovered through an open records request that Kemp's office used a  racially-biased methodology for removing as many as 700,000 legitimate voters from the state's voter rolls since 2017. 
Palast said Kemp's office used a "Crosscheck Program," an interstate check list, provided by Kansas Secretary of State Kris Kobach to determine  if people from Georgia had moved to other states as a way of purging them from voter rolls.   
Kemp, who is the Republican nominee for governor running against Democrat Stacey Abrams in the Nov. 6 general election, has denied the accusations.    
"Despite what you hear or read, the numbers are clear. While outside agitators disparage this office and falsely attack us, we have kept our heads down and remained focused on ensuring secure, accessible, and fair elections for all voters. The fact is that it has never been easier to register to vote and get engaged in the electoral process in Georgia, and we are incredibly proud to report this new record," Kemp said in a news release.
The Southern Christian Leadership Conference (SCLC), Rainbow PUSH Coalition, Georgia Coalition for the People's Agenda and the new Georgia Project pledged to join Palast in filing a federal lawsuit against Kemp's office, alleging voter suppression.
Palast published a database containing the names of the voters removed since 2017 so that anyone on the list could re-register before the Oct. 9 voter registration deadline.        
"…This particular issue really motivates me to stand up for these types of acts because many people have died and made a supreme sacrifice for people to have a right to vote," Dr. Charles Steel, Jr., president of the SCLC, said during a recent press conference. "It's an insult for all of the work and accomplishments that we have done throughout this country. Georgia is a state that needs to stand up and say 'We're not going to take it anymore.'"  
Joe Beasley, former Southern Regional Director of the national Rainbow/PUSH Coalition, blasted Kemp.   
"Here we are in 2018 and this mean person that's sitting in the Secretary of State's office, namely Brian Kemp, who aspires to be the governor of this state would use racist intentions to remove more than half a million people from the rolls, the majority of them African Americans is damnable. We're not going to accept it. We're not going to take it," said Beasley.  
Attorney Gerald Griggs, vice president of the state NAACP, said the organization is calling for Kemp's resignation. Griggs said Kemp should step down from overseeing the November election as secretary of state while he is running for office.   
"We are calling on Mr. Kemp to step aside as overseeing this election. We believe it is the right thing to do. Two secretary of states have done it before while they were running for governor. We want to make sure that all Georgians can have trust in this election…" Griggs said. 
Griggs said 1.5 million Georgians have been purged from the rolls: 300,000 African-Americans; 30,000 in Fulton County; 28,000 in Clayton County; and 40,000 in DeKalb County.
"We are standing together with Mr. Palast to call for free and transparent elections," Griggs said. 
The general election is Nov. 6. Absentee by mail voting is now underway. Early in-person voting will be held Oct. 15 through Nov. 2.  The polls will be open in all of Georgia's 159 counties on Saturday, Oct. 27.